Yesterday, in the span of about an hour, I read a book of poetry that really spoke to me. (People who know me realize just how unusual this is. I don't read a ton of poetry.) October Mourning: A Song for Matthew Shepard by Lesléa Newman takes a look at a senseless tragedy in a very unique way. I think many readers will be both horrified and captivated by the story presented, and my hope is that they will use this book as a starting point in learning more about Matthew Shepard's too-short life and what they can do to put an end to homophobia.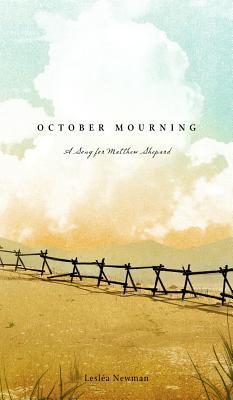 October Mourning shows readers just what happened to Matthew Shepard on October 6th, 1998. Readers learn how two homophobic Neanderthals lured a gay 21-year-old out of a club and into their truck. They see that Matthew was beaten to within an inch of his life, tied to a fence, and left for dead.
While some of what readers see is presented from Matthew's perspective, they also see this event through some unique points of view. The fence to which Matthew was tied, the doe that kept him company during the long, cold night, the stars that watched over him, the biker who found Matthew, the doctor who cared for him, the protesters at his funeral, and even the perpetrators themselves.
Each of the poems in this book paint a picture of what happened to Matthew Shepard and the events that occurred after his death. No, the book is not a narrative, but I think the poems used in this book often make things clearer than they might be otherwise. They cut through a lot of stuff and get to the very heart of Matthew's story.
While the poems in October Mourning were created from the author's imagination, they are based on real events, and there are footnotes at the end of the book detailing much of the content in the poems as well as explanations of the various poetic forms used.
_______________
I picked up this book because it was nominated for the 14-15 South Carolina Young Adult Book Award, but I honestly think I would have read October Mourning anyway. You see, I can remember when this tragedy occurred. I was a sophomore at Winthrop University, and I recall being absolutely horrified by what happened in Laramie, Wyoming. I remember realizing that this could happen in South Carolina. Several of my friends were openly gay, so I worried that some dumb redneck might get the idea to do something similar. (Even today, that worry hasn't entirely gone away.)
I know a lot has changed in the nearly sixteen years since Matthew Shepard's death, but there is still so much work to do. Look around. Homophobia still runs rampant, and political talking heads and uber-conservative blowhards continue to prey on irrational fears to prevent true equality from becoming a reality. Many churches–institutions that are supposed to be all about God's love–preach messages of hate. Books depicting gay characters are pulled from library shelves. People's lives are still threatened just because of who they love. Will we ever see an end to this madness? I truly hope so.
If anything positive can come of a tragedy like this, I hope that young people will read October Mourning, learn a bit more about Matthew Shepard, examine their own attitudes, and do something–no matter how seemingly small–to eradicate homophobia. I believe it can be done.
_______________
For more information on October Mourning and what inspired author Lesléa Newman to write it, check out this Huffington Post article. There's a video there as well, but I've also put it here. It tells you about this book more succinctly than I ever could.
*By the way, I applaud the SCYABA committee for choosing this book as one of next year's nominees. It goes to show that, even in a state as conservative as ours, attitudes are changing, and South Carolinians can be champions for gay rights. Thank you!*