Proceed with caution! Reborn is the first book in C.C. Hunter's Shadow Falls After Dark series. It might behoove you to read the entire Shadow Falls series before continuing with Reborn. In my opinion, it is kind of necessary to have some knowledge of what happens in the original series before continuing with the spin-off. If you need a list of these books, look below.
There are also a couple of ebook novellas that add to the series and what happens in Reborn. They are Turned at Dark (Shadow Falls #0.5) and Saved at Sunrise (Shadow Falls #4.5).
If you're still reading this post, I'm assuming you've already read the entire Shadow Falls series. Next week, Reborn, the first book in the Shadow Falls After Dark spin-off series, will be released to the masses. (I was lucky enough to read an advance copy via NetGalley.)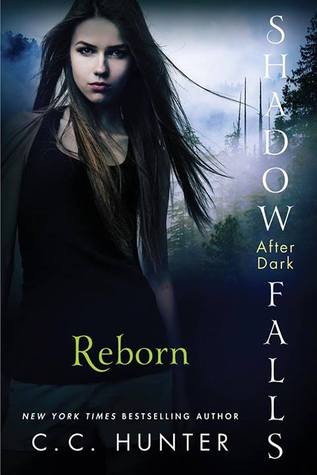 Reborn (and the rest of this new series, I imagine) is told from the perspective of Della Tsang, the rather moody vampire we met in the original series. Della is still living with roommates Kylie and Miranda at Shadow Falls, but she's got her eye on a future with FRU, or Fallen Research Unit, the agency that governs the supernatural.
Della just has to convince Burnett, the big, bad vampire in charge, that she's got what it takes to be a FRU agent. This may not be the simplest of tasks given that Della has a tendency to go off into dangerous situations with little regard for the consequences. Also, Burnett has a protective streak a mile wide when it comes to any of the young women in his care. A little sexist, yes, but, considering that Della's own family seems to have written her off, kind of comforting.
When a new guy enters the picture at Shadow Falls, Della's life gets even more complicated. Chase, a super-powerful vampire, has an air of danger about him, and Della is sure she's run into him before, but she can't quite place where. She's sure he's hiding something, but she may have to put her suspicions aside if she truly wants a place in the FRU. She and Chase are on the trail of a murderer, and any conflicts could convince Burnett to pull Della off the case that's quickly taking over her life.
As if worrying about her place with FRU weren't enough, Della has a few more issues on her plate. Steve, a shapeshifter she's sort of in a relationship with, wants to make things official. Della's not sure she's ready for that. After all, the last guy she loved left her when he discovered she was a vampire. Della doesn't want to put her heart on the line if Steve will up and leave her one day. And the mysterious Chase also seems to be interested in Della. Officially, Della loathes the newcomer, but she can't deny that he has a certain appeal. What does he really want with her, and should she be even thinking about Chase when Steve so clearly wants to be with her? Well, the answers to those questions may be more complicated than even Della realizes…
Della is also dealing with the possibility that she has vampire relatives she never knew about. Apparently, her dad had siblings that could have faked their deaths because they were turned (much like her missing cousin Chan). Della is using every resource she can think of to determine if she has an uncle or aunt out there somewhere. Since her own father seems to hate her, Della is longing for some sense of family, especially family who understands what being a vampire is really like.
Della Tsang is facing quite a few changes in her life at Shadow Falls. Tracking down a killer, getting a taste of her future career, a thoroughly confusing love life, trying to find her family, and so much more. You see, while all of this is going on, Della is also experiencing a strange sickness. Her senses are on the fritz, she's running a fever (very unusual for a vampire), she's having some pretty intense headaches, and, to really make things odd, she's seeing ghosts. What exactly is going on here, and can Della figure things out before it's too late?
_______________
C.C. Hunter has once again packed a bunch of stuff into one book. Della definitely has a lot to deal with, and she manages to do it with the sass that we've come to expect from her. But we also get a glimpse of a Della we may not have seen before. Yes, she presents a tough exterior to those around her, but her emotions are often in a state of turmoil. She struggles greatly with her father's disappointment, she wants to make Burnett proud of her, she's fiercely loyal to her friends, and she seeks justice for the innocent. Della also wrestles with seeing herself as a monster. (We know she's one of the good guys, but sometimes all Della can see is the fear associated with the word "vampire.") This character wants love and acceptance, and she's sometimes too blind to notice that she's had it since she stepped foot into Shadow Falls.
I thoroughly enjoyed reading Reborn, and I wouldn't hesitate to recommend it–and the original Shadow Falls series–to teen readers. (It is a bit mature for middle grades.) If you think this book is worth a read, I encourage you to pick it up on May 20th!
If you're a book trailer enthusiast (like I am), you may also want to take a peek at the Reborn video below. It's just a wee bit spoilery, but it doesn't give too much away. And it's kind of awesome.
For more information on Reborn, Shadow Falls, and author C.C. Hunter, visit the author's website, Twitter, Goodreads, or Facebook.
The next book in this series, Eternal, is scheduled for an October 28th release.