Last night, I finally finished reading another book that came to me through NetGalley. This book, Oblivion by Sasha Dawn, came out on May 27th, and I honestly should have finished reading it before the release date, but I just couldn't do it. It took me three weeks to get through this book, and that is rare. The premise of the book was interesting, but the book itself just didn't hold my interest. It was very easy to put down.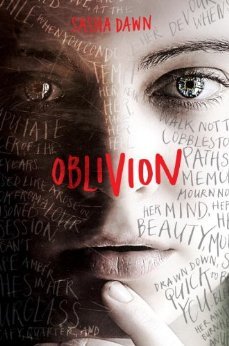 Callie has been plagued by graphomania (an extreme need to write) for the past year, ever since her father, Reverend Palmer Prescott of the Church of the Holy Promise (a very cult-like "church"), disappeared with Hannah, a young girl from the church. Authorities–and even Callie herself–think Callie knows more about the supposed abduction than she's told them. Buried somewhere in her memories are clues to what really happened. All Callie really knows is that she was found after the disappearance with the words "I killed him" scrawled on the walls of a shabby apartment. What really happened that night? And does Callie hold the keys to unlocking the truth of a young girl's whereabouts?
The anniversary of this terrible event is fast approaching, and Callie's graphomania is taking on a life of its own. The words are pouring out of her, but what do they mean? Callie seeks answers from her mentally disturbed mother, but it's often difficult to separate lucidity from insanity with her mom.
A guy at school, though, may be able to help Callie. John has followed this case–and another related one–and he seems to be triggering some latent memories in Callie's fragile mind. He's helping her make sense of the words plaguing her, and Callie is growing closer to the truth of what really happened.
Is Callie ready for what the truth will reveal? What will it mean for her life now? And what will happen when it becomes clear that someone is willing to do anything to keep some secrets buried forever?
_______________
Even though I wasn't a huge fan of this book, I did like a couple of things about it. I found the entire concept of graphomania to be intriguing. It's not a condition I'd ever heard of before, and I now find myself wanting to know more about it. Trying to decipher what Callie's words really meant was both frustrating and engaging, and when things finally coalesced at the end, those words made a strange sort of sense.
Watching Callie and John work together to uncover the mystery surrounding Palmer and Hannah was interesting at times. They had a few setbacks, and Callie's words led them on some wild chases for answers, but they persevered and eventually found the truth. Were they the answers the duo expected? Not always, but I think their relationship was strengthened by the journey together.
I think my biggest issues with this book had to do with pacing and characters. The story seemed to drag on and on until the big conclusion, when everything went at a frantic pace. The ending actually took me by surprise because it came on so suddenly. I was expecting a little more of a build-up, especially considering how slowly the rest of the book went. So, although I found the end to be exciting, disturbing, and fitting, I also found it to be rather abrupt.
As for the characters, I must say that I didn't particularly like any of them. Even Callie, our protagonist, was kind of hard to like sometimes. Yes, I rooted for her and wanted her to uncover the truth, but I didn't think she was very relatable, and she made some pretty bone-headed choices (which I know would be expected for someone in her situation, but a little common sense would have been nice). The character I disliked the most was probably Lindsay, Callie's foster sister. That girl was horrible! I'm still trying to figure out why Callie put up with Lindsay's wide array of crap (bullying, drug use, lying, etc.). There were a few other major characters in this book, and I'm sad to say that I found none of them–save maybe Hannah–to be especially sympathetic.
I read an uncorrected proof of Oblivion, so it's possible that some changes were made to make the book a bit better before final publication. If you happen to read a final copy, please let me know what you think! I feel that this book had so much potential to be great, but, in my opinion, it just fell short.