I began reading my latest book, Love Letters to the Dead by Ava Dellaira, about two weeks ago. Unlike Oblivion, which was an easy book to put aside, this one kept calling to me, but I wanted to wait until I could give it my undivided attention before I really became absorbed in the story. I read bits and pieces here and there, but it wasn't until this weekend that I finally sat down and got to know Laurel, the haunting voice that drives this wonderful book.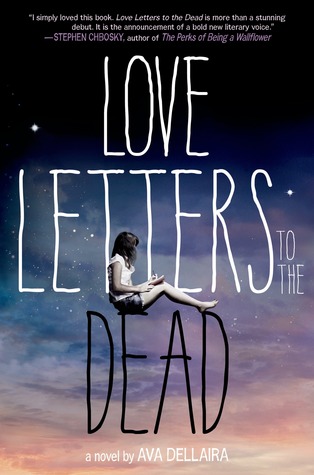 Love Letters to the Dead is just what the title suggests. It begins as a simple English assignment, but this is one that takes on a life of its own. Laurel was supposed to write a letter to a dead person, but she didn't really stop there. She wrote letters to several famous people, most of whom died too young…just like Laurel's big sister, May.
In Laurel's letters to such notable figures as Kurt Cobain, Judy Garland, Amelia Earhart, River Phoenix, Amy Winehouse, and others, readers learn not only about the lives–and deaths–of these people, but we also see how Laurel is dealing with her sister's passing. (In short, she's not.) Laurel's entire life seemed to stop when May died, and moving on is excruciating at times. She doesn't really know how to be herself because she's always lived in May's shadow. With May gone, who is Laurel…and why would anyone really care?
As Laurel enters a new school, forms a few unlikely friendships. and experiences love for the first time, she relates her experiences to those of the "stars" to whom she is writing. She writes about her fractured family and her guilt over May's death. She writes of her sister's magnetism and how everything May touched seemed to be absolutely perfect. She writes about her friends, Natalie and Hannah, and Hannah's self-destructive behavior–which seems all-too-familiar at times–that is tearing the girls apart. And finally, Laurel writes about what happened before May's death, the horror she suffered when May should have been watching out for her.
Through these "love letters," Laurel deals with her grief and guilt, and she comes face to face with the sister she idolized. The sister who maybe wasn't so perfect. The sister who let her down, first by leaving her vulnerable and then just by leaving.
Laurel realizes that there's more to her than being May's little sister, and it's okay to want a life that isn't ravaged by grief. Will she always love her sister? Absolutely. Nothing can ever change that. But will she finally understand that her sister was human and responsible for her own choices? Well, that's a different question altogether and one that Laurel will have to answer for herself. These letters, though, might actually help her come to grips with the truth, and what started out as a simple English assignment could finally set Laurel free.
_______________
So, yeah…I liked this book. Anyone who has every experienced loss will relate to Laurel in some way. We experience Laurel's crippling grief, we cry along with her, and we wonder if the pain will ever go away. Just like reality, the pain never really leaves Laurel, but she finds a way to deal with it so that she can get on with the business of living. And the process itself is not without its ups and downs, but Laurel powers on, facing herself and the truth about who her sister really was. Through it all, Laurel learns more about herself and who she wants to be.
In addition to empathizing with Laurel in Love Letters to the Dead, readers may also find themselves learning a little along the way. This book taught me more than I ever knew about the lives and deaths of Judy Garland, Kurt Cobain, Janis Joplin, Heath Ledger, and several others. Their stories, like May's, were tragic, and their deaths came too soon. Their legacies, though, live on.
I don't feel I've done a very good job of capturing this book, but I hope you'll give it a try anyway. If you enjoy coming-of-age stories like The Perks of Being a Wallflower, If I Stay, The Fault in Our Stars, We Were Liars, The Opposite of Hallelujah, and many others, I suggest you read Love Letters to the Dead. The format alone makes it a fairly quick read, but the story will stay with you long after you close the book.
For more information on Love Letters to the Dead and author Ava Dellaira, visit the author's website, Facebook, or Twitter.