I try to find something positive to say about every book you see here on Knight Reader. That's not always an easy feat, and it's especially difficult with my latest read, Followers by Anna Davies. I guess the best things I can say about it are that it was a quick read (and didn't take up too much of my valuable time), and it involved social media, something that is vitally important to the book's target audience. I also sort of liked that the book revolved around a school working on a production of Hamlet. Any excuse for a Shakespeare reference, right?
Those few positives aside, Followers didn't really do it for me. Even the cover, in my opinion, failed to capture the book. I was expecting a much scarier story based on the cover…maybe one with evil little girls with yellow eyes. That was not the case. The girls on the cover are very misleading. They appear to be younger than any of the characters in the book, and they fail to tell readers anything about the book.  Even the tagline at the top has nothing to do with the actual story. Cover=fail.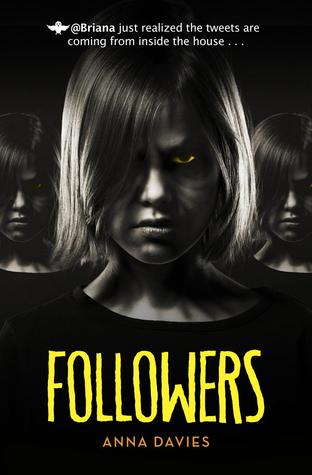 This book, as I said, centers around a school's production of Hamlet. Our protagonist, Briana, or @alleyesonbree as she's known in the Twitterverse, is desperate to play Ophelia. She knows she's good, but she still worries that she's not good enough. She's also anxious about her place at MacHale, the private school where her mother was an acting star. Bree is just now starting to become part of things at MacHale, and she's hoping that nabbing the role of Ophelia will make her feel as if she truly belongs. Alas, it is not meant to be…
Bree doesn't get the coveted role, but the director, an altogether strange man who takes over when the previous director dies, wants Bree to be the play's social media director. He's seen her Twitter feed, and he thinks she can make Hamlet an interactive experience. Bree reluctantly agrees, but it seems there's someone else on Twitter, @hamletsghost, who knows more about this production than anyone. This person even knows when "accidents," incidents that are taking lives, are about to occur.
Bree is getting really freaked out, but the drama is just beginning. Soon, everyone thinks that Bree is behind the deaths. After all, the killer is using Twitter to brag about what's happening, Bree is the school's Twitter queen, and she's the only person who's really gained anything from this chaos. But how can Bree prove that she's not behind these murders? Can she prove her innocence and reveal the true identity of @hamletsghost before she or someone else is the next victim?
_______________
I feel like Followers could have been a really good book, but, truthfully, it just didn't have enough meat. There was too much build-up, but the climax was kind of a let-down. It happened too suddenly, and I think the entire book could have been scarier. I expect something marketed as horror to keep me up at night. This book didn't. I'm a wuss from way back, and this book didn't give me the first nightmare. I can't even call it horror, to be honest. Suspense? Maybe, but I thought it was pretty obvious what was going on. A few red herrings would have been nice.
I did like the Twitter angle in the book, but I thought even that could have been fleshed out more. It seemed to be an afterthought at times. I would have liked to see more Twitter conversations between @alleyesonbree and @hamletsghost, as well as the other characters in the book. With a title like Followers, one kind of expects entire chapters to be written in tweets, but there were only a few in each chapter. The concept of a killer using Twitter to draw attention to his/her exploits is a clever one. It just needed a little more oomph in this book.
Followers won't officially be released until June 24th, and I really hope that the final version is a bit better than the NetGalley proof I read. If it is, I think the book will be a good addition to middle and high school libraries, particularly those that serve schools with strong drama programs. If not…well, this may not be a necessary purchase.