Last night, when I should have been packing for a conference, I was instead devouring Just One Day by the fabulous Gayle Forman. This book had been on my to-read list for quite a while, but I didn't make time for it until this weekend. Oh, how I wish I had read it sooner!
Like If I Stay and Where She Went, Just One Day shows that Gayle Forman is a master at writing love stories that pack an emotional punch. Even more important, in my opinion, she's excellent at giving readers examples of young women who, while navigating the perilous waters of relationships, also work to discover their own inner strength.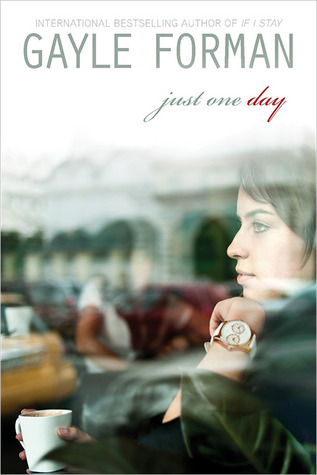 Allyson is nearing the end of a whirlwind tour of Europe, and, to be honest, the trip has been something of a disappointment. Yes, she's oohed and aahed at all the appropriate moments, she's seen some impressive sights with her best friend Melanie, and she's even gotten a haircut to mark what should have been the start of the greatest vacation ever. But Allyson feels like she's just going through the motions. She should be excited about this extravagant graduation gift, but something just doesn't feel quite right.
Everything changes, though, when Allyson and Melanie deviate from their rigid plans and are persuaded to take in a performance of Twelfth Night in a Stratford-upon-Avon park. It is here that Allyson's life changes forever. She meets Willem, a Dutch actor in the play, and she's immediately drawn to him. There's something about him that makes Allyson want to break free of limits and responsibilities. Maybe it's because Willem doesn't really know her. He doesn't even know her name. He calls her Lulu because she reminds him of Louise Brooks, the silent film star. Maybe it's that little bit of anonymity that gives Allyson the freedom to do something that's so out of character. The freedom to eschew her plans to spend just one day with Willem in Paris.
One day in Paris. One day to see the sights and experience all that the City of Light has to offer. One day to fall in love with Willem, a young man who is so different from the Allyson she's always been. Here she's Lulu, a girl who takes things in stride, who has the attention of someone who could be–and probably has been–with dozens of other girls. It's not easy to leave her good girl image behind, but Allyson wants to be someone different with Willem, and she's coming to think she can be different when she returns to her real life.
All of that changes, though, when Allyson's one day in Paris comes to a shattering end. After waking to find Willem gone, Allyson's entire world seems to explode, and she doesn't really know how to put the pieces back together. Nothing seems to fit anymore, and Allyson is struggling. It's hard to admit that one day, one boy could have such a huge impact on her life, but Allyson will have to face what happened and the still unanswered questions if she has any hope of moving on with her life.
In the year after her day in Paris, Allyson must come to grips with how all of this has changed her. She has to deal with going back to being the "good girl" everyone expects and all of the pressure that entails. She faces the undeniable truth that she's not the person she once was, and she's no longer content living out someone else's dreams. She must do what feels right to her…even if that means standing up to her parents, becoming more independent…and returning to the "scene of the crime" and discovering just what happened to make Willem walk away from her.
As Allyson attempts to make sense of everything that has happened in the past year, she'll also discover that she's stronger and more capable than she thought. Even if she never discovers why Willem left her, her quest for answers may just leave her with the peace and determination to become exactly who she was meant to be.
_______________
I think you can safely assume that I adored this book. If I weren't so held back by my own fears–much like the Allyson we see early in this book–I would take off right now on a Parisian vacation, hoping to find my own sense of peace. Unfortunately, I am a big chicken, and that just won't happen. (Not to mention the matter of not having the money and having to attend a conference for most of this week.)
I'd love to have a journey of self-discovery like Allyson experienced. I imagine that many readers will feel a similar longing. Even with the lows that Allyson dealt with after her day in Paris, she learned so much about herself. She learned that she had to let go of some things, even friendships, her parents' expectations, and her own need to please those around her. I'm thirty-five years old, and I wish I could do that. Maybe one day.
While I'm envious of Allyson breaking free of her own boundaries, I'm also insanely jealous of her travels through Europe. The only time I've been out of the U.S. was when I went on a cruise to the Bahamas. I've wanted to travel to Europe, particularly Great Britain, for as long as I can remember, but finances, health issues, and a hefty dose of fear have always held me back. Allyson has inspired me, though. I'm somehow finding a renewed determination to make my dreams a reality. I've now got the beginnings of a plan in my head–a plan to save some money, lose some weight, and finally turn my desire for travel into a reality. How long with it take to put this plan into motion? I have no clue, but at least I'm getting started. Thank you for that, Allyson and Gayle Forman!
So, I finished Just One Day late last night, and I fully intend to start reading Just One Year, the companion novel from Willem's perspective, within the next hour or so. (I have a two-hour ride to Atlanta ahead of me, so I should be able to make quite a dent in the book.) After that, I will read Just One Night, an ebook novella and the final chapter in the captivating story of Allyson and Willem. I can hardly wait to get started!
If you'd like more information on Just One Day or the other amazing books by the brilliant Gayle Forman, check out her website (which has quite a bit of info on the upcoming movie adaptation of If I Stay), Twitter, Facebook, and Tumblr. You may also want to take a quick look at the Just One Day book trailer below. I hope you enjoy the journey as much as I have!