A few minutes ago, I finally finished reading I Am the Weapon, the first book in Allen Zadoff's Unknown Assassin series. This book (which I got to read thanks to NetGalley) was originally published last year with the title Boy Nobody. Let me just say that I whole-heartedly approve of the title change. I doubt I would have chosen to read the book with the original title. Boring. I Am the Weapon, though? Yeah, that one grabs my attention.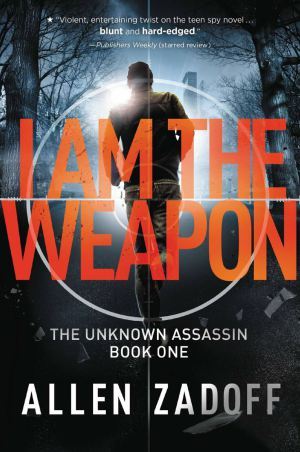 In this series opener, readers are introduced to a young man with a somewhat fluid identity. He's the new kid in class, the one who makes friends easily, the one who disappears like smoke. He is an assassin, and, as soon as his job is done, he moves on to the next assignment. The next target sent to him by The Program. He doesn't ask questions. He follows orders…for now.
The boy's new assignment takes him to New York City. Unlike his other jobs, this one won't force him to slowly and carefully make connections with those around him. No, there is a speedy timeline here. He has five days to kill the mayor of New York City.
While he questions his unusual timetable and his high-profile, heavily protected target, he proceeds with the job at hand. He becomes Ben, a new kid in a private Manhattan school, and he does what he must to get close to Samara, the mayor's daughter.
Sam is smart, though. She knows something is different about Ben. He doesn't quite fit in at school, and she seems to be intrigued by this. Ben can only use this to his advantage. He quickly involves himself in nearly every aspect of Sam's life, and, as he learns more about this girl and her father, the more he wonders why this seemingly good man must be eliminated.
Pretty soon, Ben is getting much closer than he intended, and that's having an impact on his assignment. He can't quite force himself to follow through and actually kill a man he's growing to like, especially if that means that Sam will be hurt.
Ben is also reflecting on the circumstances that led him to be an assassin for The Program. Why was he chosen? Why was his father killed? And does he have any control over his own life? Can he make his own choices without higher-ups deciding that he needs to be eliminated as well?
As Ben is struggling with his assignment and his place within The Program, he receives a new set of orders. He's now got four days to complete his job, but his target has changed. He's no longer expected to kill the mayor. No. Now his target is Sam. Why? What has she done to warrant being silenced? And can this teen assassin figure things out before he is put in the cross-hairs?
_______________
If you're looking for a quick, action-packed YA book in the vein of The Bourne Identity and other psychological thrillers with political implications, I think I Am the Weapon may be the book you seek. The main character is not exactly a hero, but readers will be intrigued by his thought processes and what leads him to the actions he takes. He is a killer, one who sometimes blindly follows orders, but he wasn't always so cold. Once upon a time, he had a family, and his memories of those times–and his growing dissatisfaction with The Program–show readers his humanity and give a hint that he could be redeemed in the future.
Those looking for a happy ending with a sense of closure will not find it in I Am the Weapon. If anything, the conclusion raises even more questions…which I guess is good since there are other books in the series waiting in the wings. The next book, I Am the Mission (which has gone through a couple of title changes as well), should already be out. I'm hoping it's just as action-packed as the first book. I'll find out soon enough. Thanks to NetGalley, I've also got a copy of this one waiting on my ereader.
For more information on I Am the Weapon and other books by Allen Zadoff, check out the author's website. As for me, I think I'll move on to my next book! Peace!