If you enjoyed Mary Amato's Guitar Notes or are an aspiring singer/songwriter, there's a great book heading your way. Get Happy, also by Mary Amato, will be released by Egmont USA in October, and, once again, this author explores how music allows one girl to express herself and work through everything that is happening in her life.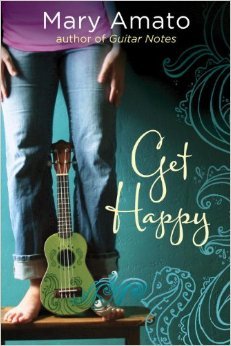 Minerva is a young songwriter who is desperate to have her very own ukulele. She's sure that her mom will finally pick up on her oh-so-subtle hints, but it is not to be. On the morning of her birthday, she is met with a sweater instead of the instrument that she desires. Min does, however, receive something on her birthday that will change everything she's ever believed about her own life. She gets a letter and a necklace from her father, a man she always thought abandoned Min and her mom. As it turns out, that may not have been the case…
While Min is both curious about her father and determined to avoid him, she's also focused on her new job. She and a few other teens are performers for Get Happy, a company that provides characters for children's birthday parties. Min is Get Happy's resident mermaid, her best friend Finn is a pirate, a dimpled cutie from school is a cowboy, and Cassie, a too-perfect prima donna, is the princess. Min's primary reason for getting this job is to earn enough money for a ukulele, but encountering so many happy (and unhappy) families is forcing her to examine her own childhood, the few memories of her father, and what she may have missed because of his absence.
Min is not ready to confront her mom yet–or, heaven forbid, her dad–about what really happened with them, so she expresses her conflicted feelings about the situation through song. When Min finally gets her prized ukulele, the songs seem to flow out of her, but the tension between Min and her mom is growing each day, and it will soon become too much for Min to bear.
When Min learns the truth about what her mom has been hiding all these years, she'll be forced to face the father she's never really known. Why did he really leave? Did he even care about her? And will she make a place for him in her life now? Can Min forgive her mother, know her father, and get happy with her life now that everything is out in the open? We'll just have to see…
_______________
Other than the whole music connection, one thing that Get Happy has in common with Guitar Notes is parents that are totally out of touch with their kids. Min's mom seemed to be totally focused on what she wanted. She missed completely that her daughter didn't care about the best clothes and was perfectly happy with quirky thrift store finds. Min wanted a ukulele; mom got her an ugly sweater. And most importantly, Min's mother didn't see how much damage she did to her daughter by keeping her from her father. Yes, I know she had her reasons, but it felt like she was acting in her own interests, not her daughter's.
While I liked Get Happy, I do wish there had been a bit more resolution. Things felt very unfinished at the end, and I would have liked to see Min's interactions with her father and how that impacted her life. I also wanted to see more of Min's relationship with Hayes (the dimpled cutie mentioned above) and how her best friend reacted to it. It is my sincere hope that these issues will be addressed before the book hits stores in October.
If I had to recommend a book to young musicians, I would definitely pick Guitar Notes over Get Happy at this point. I felt like Guitar Notes had much more of a resolution, and the story itself just felt more fleshed out. I would, though, recommend both books for readers who express themselves through music. Even though the characters are teenagers, I think these books are more than suitable for readers from fifth grade on up.
For more information on Get Happy, Guitar Notes, and other books by Mary Amato, visit her website or Goodreads. And remember to pick up Get Happy at your local library or bookstore on October 28th!