Sometimes books (and movies, TV shows, songs, commercials, etc.) make me emotional. I can usually shed a few tears and move on with my life. There are a few books, however, that turn me into someone even I don't recognize. I cry so hard that I can't catch my breath, I get so angry that I want to hit things, and I'm so exhausted by the whole experience that I have to take a very long nap to recuperate. I read one of those books this weekend. It was Torn Away by Jennifer Brown. This book put me through the wringer, and, despite today's three-hour nap, I'm still emotionally exhausted from the experience.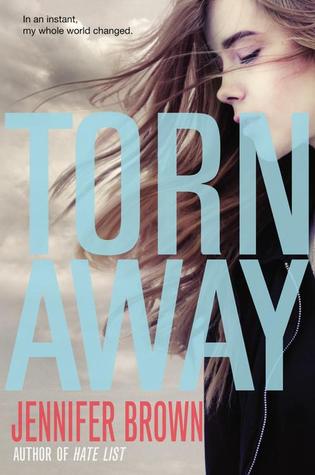 Torn Away tells the story of Jersey Cameron. Jersey is finishing up her junior year in high school in Elizabeth, Missouri, and, like many teen girls, she's focused on her own life. She rolls her eyes when her mom tells her to do chores, and she doesn't want to be bothered by her little sister, Marin. All she wants is to be left alone.
When the tornado sirens sound one evening, Jersey is home alone waiting for her mom and sister to return from dance class. At first, she's sure that things aren't that bad outside. They've heard the sirens before, and nothing has happened. Unfortunately, that is not the case on this fateful night. A massive tornado is heading right for Jersey's town, and it won't just rip buildings to shreds. No, it will destroy Jersey's entire world. Jersey wanted to be left alone before. Now, she has no choice.
The disaster that leveled Jersey's home also took her mother and sister, and her stepfather can't deal with Jersey's pain on top of his own. He sends Jersey to live with her father and paternal grandparents, people she's never met, and her already tragic situation is made even worse. Jersey lives in a constant state of fear, she has no one to lean on, and the people who should be there for her want nothing to do with her. In fact, they make it known that she's not welcome, and they're only taking her in because they think they have to.
Jersey can't take living with her father and his loathsome family, so she does the only thing she can think of. She runs away. Jersey hopes that she'll be able to stay with friends or even her stepfather back in Elizabeth, but, yet again, she's sent to live with more relatives she's never met. This time, she's staying with her maternal grandparents, the same people who disowned her mother so many years ago.
Jersey's existence with her mom's parents is much more comfortable than it was with her father's family, but Jersey is still holding onto so much anger, fear, and sadness that she can't let anyone in, especially the people her mother taught her to despise. But did Jersey really get the whole story from her mother? What led to the separation between daughter and parents, and did either party ever try to bridge that gap? Should Jersey be the one to make things better? Is that even an option when her grief is eating her alive?
As Jersey spends more time with her grandparents and learns more about her mother's life (and secrets), she realizes that maybe there are people in the world who still love her. People who, like her mother, will do everything in their power to make her feel happy and safe. People who share in her grief and want to help her heal. People who can return a sense of family to her life. All Jersey has to do is let them in. Will she? Or will she let the tornado that took her mother and sister tear away her future as well?
_______________
This post hasn't even come close to describing the intense, heart-wrenching journey that is Torn Away. I cried so much that I had to read most of the book with my glasses off. I kept Kleenex beside me the whole time. This wasn't one of those books that elicits tears just at the end. No, like The Fault in Our Stars, Torn Away had me sobbing from beginning to end…and some of those tears were shed in anger.
I'm pretty sure I did serious damage to my Darth Vader pillow when I got angry at some of the people in Jersey's life (which is kind of funny when you think about it). I got mad at her stepdad because he either couldn't or wouldn't see the damage he was inflicting on Jersey, but most of my anger was reserved for Jersey's biological father and his family. Her father's family was seriously horrible. All of them–with the minor exception of her aunt–were rude, insensitive, callous, and malicious people who didn't try to sympathize with Jersey and even took delight in her pain. (I don't think it's a stretch to call them white trash. If anyone is offended by that, I'm sorry. Read the book. I'm sure you'll agree with me.) I had to put the book down on a couple of occasions because I was so mad. I may have actually applauded Jersey when she finally escaped this situation.
I do think anyone who's ever experienced loss will identify with the character of Jersey. I know I did. I felt her pain, her anger, her hopelessness. I imagined what I would do in a similar situation, and let me tell you…I wouldn't have fared nearly as well as Jersey did. Jersey is a strong, sympathetic character who did her best to survive when it would have been all too easy to give up. Did she always to the right thing? Of course not, but she survived and held on to the memories of her family while working to make a life for herself in a world without them.
If you'd like to read Torn Away, pick up a box of Kleenex first and then head to your local library or bookstore. (I read a copy via NetGalley, but the book is already available to the masses.)
To learn more about Jennifer Brown and her other books–like Hate List–visit her website or Twitter.