After a much-needed break from blogging, I'm back at it with one more nominee for the 14-15 South Carolina Children's Book Award, Escape from Mr. Lemoncello's Library by Chris Grabenstein. (In case you're wondering, I've now read ten of the nominees. Halfway there!)
It took me a little while to get into Escape from Mr. Lemoncello's Library, but, once I did, I didn't want to put the book down. (I imagine that most library/book nerds will be able to relate.) It reminded me of The Gollywhopper Games by Jody Feldman and my absolute favorite children's book, Charlie and the Chocolate Factory by Roald Dahl. (Even the characters in the book recognize the similarities between their situation and Charlie Bucket's adventures in Willy Wonka's candy factory.) While the kids in this book are competing for a fantastic prize, they're also learning a lot about the power of books, their new (and totally unbelievable) town library, and how to work as a team.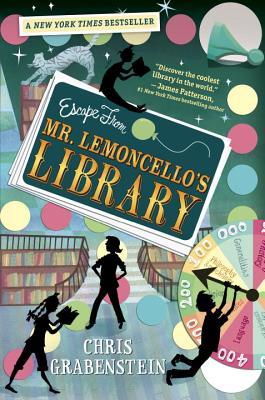 Kyle Keeley loves games of all kinds, and his favorites are the creations of the amazing Luigi Lemoncello, an eccentric genius who just happened to grow up in Kyle's hometown.
Kyle's town has been without a public library for years, but everyone is excited that a new library is about to open–and that excitement only grows when it's revealed that Mr. Lemoncello himself designed the new building. Kyle is sure that the library is awesome–even though he doesn't like to read all that much–and he is determined to be one of the first people to see just how cool it is.
An essay contest will determine which twelve seventh-graders are invited to a lock-in at the new library. Even though Kyle's essay efforts are a bit rough, he is selected to spend the night in the greatest library the world has ever known! Filled with holograms, a Wonder Dome with changing scenes overhead, hover ladders that reach the highest shelves, state-of-the-art technology, and books galore, the library is more than any of the kids ever dreamed…and so is the contest that led them here.
When the lock-in is over, these twelve kids are presented with the opportunity of a lifetime. They may extend their stay and play the most exciting game of their lives, Escape from Mr. Lemoncello's Library! Whoever finds the escape route from the library within the next twenty-four hours becomes Mr. Lemoncello's spokesperson for all of his gaming products! Kyle doesn't even need to think about whether or not he'll stay. (Not everyone feels the same.) This is more than he ever dreamed of, and he's in it to win it. (He's not the only one.)
During this exciting day, Kyle teams up with some friends–old and new–and uses knowledge of books, the library, games, and Mr. Lemoncello himself to find a way out of this most unusual library. Will they be able to escape from Mr. Lemoncello's Library before time runs out? Before someone else beats them to it? And what will they learn along the way?
Play the game along with Kyle and company and see if you can figure out how to Escape from Mr. Lemoncello's Library!
_______________
As thrilled as I am that this book is a Children's Book Award nominee for my state, I honestly believe that many adults will appreciate this book more than younger readers will. Escape from Mr. Lemoncello's Library is filled to the brim with literary allusions, and part of the fun of reading it–at least for me–was thinking about the books or authors that the characters were alluding to. I don't know if many of my students are well-read enough to pick up on all of these tidbits…but their teachers may be. (This could result in a giggle or two if teachers–or librarians–decide to use this book as a read-aloud…which I recommend.)
Like the character of Kyle Keeley, I predict that many kids who read this book will find themselves making a list of books they need to read. From Sherlock Holmes to Harry Potter to the works of Dr. Seuss, Kyle encountered many wonderful stories in the library, stories full of fun and adventure that added to his enjoyment of his experiences in the library. Kyle wasn't much of a reader before this contest, but that definitely changed in a very short time.
I think librarians who read this book will likely be insanely jealous of Mr. Lemoncello's fantastic library. I know I am. I imagine many of us would have libraries like this one if we were blessed with unlimited funds. (If I ever win the lottery, I may just make this happen in my town. Of course, one does have to play the lottery to win it.)
It might be kind of fun to have students who read this book come up with a design for their own dream library. I wonder what they would include. Probably something very different from what I envision, but this could be an intriguing–and informative–activity with interested students. (This would be a creative way to see how we could improve library programs. We may not be able to build new buildings, but we can always do something.)
Escape from Mr. Lemoncello's Library is a captivating read that illuminates the power of books, libraries, teamwork, and fun in learning. It is a must-read for all who love children's literature and those who believe that libraries–and librarians–can truly change lives.
For more on author Chris Grabenstein, check out his website, Facebook, or Twitter.