A couple of days ago, Let's Get Lost, a novel by Adi Alsaid, was released to the world. I began reading a NetGalley review copy of the book last week, and I finally finished it last night. To be perfectly honest, this book didn't immediately capture my attention, so I found it easy to put it down and move on to something else. Once I made up my mind to sit down and read Let's Get Lost, however, I wanted to know more about the central character, Leila, and her interactions with others on her journey north. The relationships she formed told us just as much about Leila as they did about the people she encountered.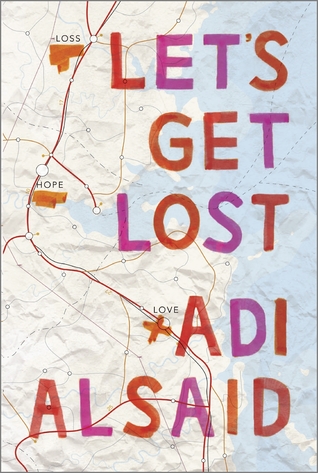 Hudson is a kid preparing for the most important meeting of his entire life. He's got a shot at a full scholarship at Ole Miss, and tomorrow is the big day. But a lot can happen in a day. When Hudson is working in his dad's garage, a girl brings her car in for a little work. Almost immediately, Hudson is captivated by this newcomer. Her name is Leila, and she's unlike any girl he's ever met. She's traveling to see the Northern Lights, and Hudson is awed by her bravery, her ability to take life as it comes, and to do what she wants. He wishes he could do the same. While she's in town, he does. He decides to live a little before his big interview. Hudson shows Leila the town he loves, he shares pieces of himself with her, and he begins to reevaluate what he really wants. Is he ready, though, for the fallout of his night with Leila and what it could mean for his future?
Bree meets Leila on a lonely stretch of highway in Kansas. Bree is a runaway who lives for the next adventure, the next surge of adrenaline. She thinks she's met a kindred spirit in Leila, the girl who took pity on a poor hitchhiker. Bree introduces Leila to the thrill of shoplifting, auto theft, and, eventually, spending some time in a jail cell. Through all this, Bree reveals her story to Leila, who wants to do whatever she can to help this girl find whatever it is she's looking for. Is she really looking to run away, or is she trying to find her way home again?
Elliot, a young man in Minnesota, just told his friend, Maribel, that he's in love with her…and was essentially shot down. This is not how his prom night was supposed to go. It was supposed to end like all the great romantic movies, with the girl revealing that she's always loved him too, and then they have a dramatic kiss and live happily ever after. Yeah…not so much. Instead, Elliot is getting hammered and doing stupid stunts in the middle of the street. And that's were Leila runs into him–literally. After a mild run-in with Leila's car, Elliot unloads his troubles on this strange girl. Leila, in turn, vows to help Elliot win the girl he loves. What follows is a night reminiscent of a John Hughes film. Every time Elliot thinks he's finally done something to win his Maribel's affections, he's rebuffed. It's just when he's all but given up that he has a glimmer of hope…and it's all thanks to Leila, a girl he'd never met before this night but one who gave him the push he needed to follow his heart.
Sonia is a young woman struggling with her feelings. She's in a wedding in British Columbia this weekend, but she's very conscious that someone is missing from this important occasion. Sam, the boy she loved so much, passed away months ago, and his absence is weighing on Sonia. It's Sam's sister getting married, and his family that has taken Sonia in as one of their own, but how would they react if they knew she was moving on? Sonia doesn't want to risk losing Sam's family, but she knows that Jeremiah–who happens to be the best man in this weekend's wedding–deserves more than she's currently giving. The pressure gets to be too much for Sonia, and she needs some time alone. That's when she meets Leila, a girl who takes pity on Sonia (who is now a tear-streaked mess), and what follows is a quest to reclaim Sonia's life, save a wedding, and finally acknowledge that it's okay to love again.
Leila has met quite a few interesting people on her journey to see the Northern Lights. She's helped people–simply by caring about them–and she may have even experienced the beginnings of love, but it's now time to see the Lights that she's been so focused on. As she waits for the Lights to appear, she finally reveals her true reason for this long journey…and it's not something that most people can fully grasp. Will the Northern Lights–in all their majestic glory–finally make things right for Leila, or will she discover that what she's looking for has been within her reach all along?
_______________
Let's Get Lost is a good read for those interested in travel, meeting new people, and throwing caution to the wind. I am definitely not one of those people, but I still enjoyed the book a bit. It was just a little difficult to understand the appeal of so much spontaneity.
I would say that this book is more suited to high school/YA collections than those for middle grade readers. It does include some alcohol/drug use, law-breaking, a little profanity, and a fair amount of disobeying (or outright ignoring) parents and other authority figures. (I think I was bothered more by the lack of respect for parents than by any of the other "bad" stuff in this book. Of course, I've always been a rule-follower. On the other hand, many of the adults in this book were almost completely out of touch with what was going on in their kids' lives. Many young people will be able to relate to that.)
I know summer is winding down for most people, but Let's Get Lost would be a great read if you've got a road trip ahead of you. It may just inspire you to slow down and get to know the people you meet along the way.
For more information on Let's Get Lost and author Adi Alsaid, check out the author's blog, Twitter, or Goodreads.