When I first picked up The Quilt Walk by Sandra Dallas, I wasn't exactly thrilled about reading it. (I wouldn't have read it at all if it had not been one of this year's SCCBA nominees.) I've never been a fan of westerns, thanks in part to being forced to watch shows like Wagon Train, The Rifleman, and others over the course of my life. My dad loves these shows, and he's tried to develop an appreciation in me. It hasn't worked.
Anyway, upon realizing that The Quilt Walk was about a girl moving west with her family, I was reluctant to start reading, but I persevered (because I had to), and I have to admit that I was pleasantly surprised. The main character was relatable, the action moved fairly quickly, and I was invested in the book's outcome. I wanted the people on this journey to arrive safely at their destination and get a happy ending. (Spoilers: Not all of them did.) This book, which I didn't initially want to read, grabbed ahold of me, and I found myself liking it more than I was prepared to.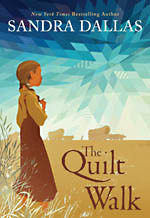 The year is 1864, and Emmy Blue Hatchett has just learned that her family is leaving their safe home in Illinois to strike out for a new life in Golden, Colorado. While Emmy Blue is excited about the possibility of adventure, she doesn't want to leave everything she's ever known behind…and she knows her mother feels the same way. But they accept their new circumstances, and Emmy Blue, her parents, and her aunt and uncle set off for Colorado.
The family has to leave many things behind–and think of creative ways to take along what they need–but just before they leave, Emmy Blue is given some fabric pieces by her grandmother. Emmy Blue is not exactly happy with this gift. Unlike the other women in her family, Emmy Blue has no interest in quilting. She doesn't understand the appeal of making perfect stitches and putting scraps of fabric together, but her mother convinces her to take her grandmother's gift and put it together on their long trek to Colorado.
As Emmy Blue begins piecing her quilt together, often walking while she stitches, she takes in her surroundings and gets to know the people around her. She has long conversations with her father and mother, she makes a new friend when they join up with a wagon train, and she questions some of the cruelty she sees around her. She encounters dangers she never expected, she learns to set up camp and lead a team of oxen, and she even finds herself enjoying her quilt walk just a bit. On this long, perilous journey, Emmy Blue Hatchett is growing up and discovering just how strong both she and those around her really are.
Eventually, Emmy Blue and her family arrive at their destination…though not without some changes. Emmy Blue is a different person than the girl who left Illinois. Her quilt walk may be done, but her journey through life is just beginning.
_______________
When I return to school tomorrow (UGH!), I plan to share this book with several of my teachers. I think The Quilt Walk is a welcome addition to studies on Westward Expansion, especially considering the book is loosely based on an actual event in Colorado history. (More information about that is available in the author's note.)
Readers my age may enjoy making connections between this book and that favorite computer game, Oregon Trail–which I never managed to make it all the way through. I always ended up with dysentery or something.
Another connection I had with this book was quilting. Now, I've never learned to quilt–to my great regret–but my great-grandmothers were excellent quilters, and they gave their creations to their families. Some of my most prized possessions are quilts made by my great-grandmothers. (My favorites are my Holly Hobbie and Strawberry Shortcake quilts, along with a very special one that includes both Jose Cuervo and Jingle Bells fabric scraps. I think I treasure that one because it's so weird.) Who knows? Maybe this book will inspire a whole new generation of quilters. I could even take it up one of these days. Stranger things have happened.
The Quilt Walk is a book I'd highly recommend for any upper elementary or middle grade classroom or library. It's a great book that tells of life in the "Wild West" and what that life may have been like for a young girl. Young readers may find it interesting to compare and contrast Emmy Blue's experiences with their own. They may just find they have more in common than they thought possible.
If you'd like more information on The Quilt Walk, a 14-15 South Carolina Children's Book Award nominee, and author Sandra Dallas, visit her website.