For the past couple of years, I've been impatiently waiting to read Stephanie Perkins' latest, Isla and the Happily Ever After. Finally–FINALLY–I got my chance this week. My signed copy of the book (along with some lovely swag) arrived last weekend, and I read it during my limited spare time this week. (School resumed for teachers in my district this week, so "limited" is the perfect way to describe my time of late.)
Just like Perkins' previous books, Anna and the French Kiss and Lola and the Boy Next Door, Isla and the Happily Ever After was outstanding. I loved the characters, how they interacted with each other, how they grew throughout the story, and how they connected with characters in the preceding books. I cannot say enough good things about this book. It was so worth the wait, and part of me wants to find Stephanie Perkins and give her a hug for creating such memorable and lovable characters. (A bigger part of me, though, shies away from human contact, so Ms. Perkins has no worries about random embraces from strangers. At least none from me.)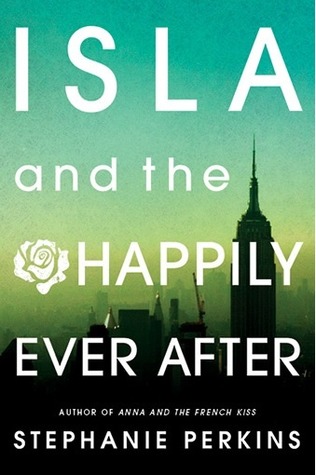 Isla Martin has been in love with Josh Wasserstein since the start of their freshman year at the School of America in Paris. Fast forward to senior year, and it seems that Isla may finally have a chance at being with the guy who's always seemed out of her reach.
After a rather odd encounter in Manhattan over the summer, the two finally reunite at school, but Isla can't get over her nervousness around Josh, and it looks like Josh is trying to keep his distance. Trying…but not succeeding. Isla and Josh are growing closer, and when Isla clears up a misunderstanding that was keeping Josh away, they're finally able to start the relationship that both of them so desperately want.
Isla and Josh become nearly inseparable, and they want to spend every spare minute together. Sometimes it's as simple as being in the same room–Josh sketching or working on his graphic novel, Isla studying or reading–but being together is what's important. They explore their favorite spots in Paris. They learn all the important little things about each other. And during one memorable, romantic weekend, Isla and Josh break all the rules and journey to Barcelona to take in a few sites. It's this weekend, though, that ultimately tests how strong their love really is.
When Isla and Josh return to Paris, they realize that their impulsive actions have devastating consequences. Josh is taken away from school and Isla, and this heart-breaking separation takes its toll on the couple's burgeoning relationship.
The more time they spend apart, the more Isla begins to doubt if Josh's feelings for her are real. She knows she loves him, but what does he really see in her? Why would he want to be with someone who doesn't know what she wants to do with her life? Is she just a placeholder for his ex-girlfriend and all of his friends that have moved on? Isla just doesn't know, and her doubts soon lead to an epic confrontation that may destroy any hope of a future with Josh.
Can Isla wade through her doubts and finally learn to trust in Josh's love? Does Josh even want to be with her after everything they've been through and said to each other? Is there any hope of a happily ever after for Isla and Josh? Only one way to find out…
_______________
I love this book so hard. I have zero complaints, and people who know me realize how rare that is. I think every girl (or guy) who reads this will absolutely fall in love with Josh. Many readers will likely identify with Isla and her deep-seated–and often unfounded–insecurities. Everyone will root for Isla and Josh to make it. Adult readers will probably want to go back and relive their teen years in the hopes of finding–or reliving–a love like the one we see between Isla and Josh.
After reading Anna, Lola, and Isla, I have to say that I will read anything that Stephanie Perkins cares to write. (I already follow her blog and Twitter, so I think I'm good to go there.) This lady is a master of YA romance, and I recommend her to every teen and adult reader who likes a good love story. I am eagerly anticipating her next book, and I can't wait to see what she contributes to the upcoming anthology, My True Love Gave to Me: Twelve Holiday Stories.
If you'd like to learn more about the fabulous Stephanie Perkins and her equally fabulous books, check out her website, Twitter, or Tumblr.
*Note: As much as I adore Isla and the Happily Ever After, I would be remiss if I didn't give a small warning to librarians, teachers, and parents. This is a book for teen and adult readers. Isla and Josh are characters in a serious relationship, and their relationship follows a fairly natural progression. There are a couple of sexual situations, but they are not terribly gratuitous. Even so, I wouldn't feel comfortable recommending this book to middle grade readers.*