Next week, Ghost House, a new book by Halo author Alexandra Adornetto, will be released. I was lucky enough to read an advance copy via NetGalley this weekend. I was in the mood for something kind of spooky, and that's what I got with Ghost House. It was a bit predictable and vaguely "Twilight-ish" at times, but it was a fairly enjoyable book that will be a big hit for those readers who like a bit of romance–especially seemingly impossible romance–in their supernatural tales.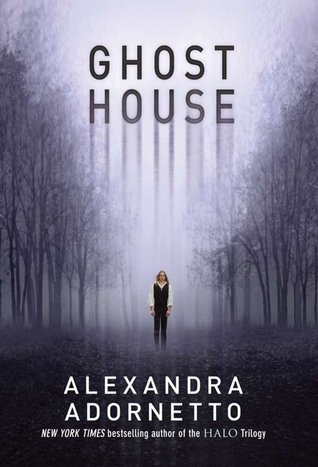 Chloe Kennedy recently experienced a loss that shook her entire world. When her mother passed away suddenly, the walls Chloe had carefully built in her mind came tumbling down, and she was no longer able to block out the ghosts that haunted her as a child.
Now, Chloe is dealing with even more change. Her father has decided that he simply can't cope with his own grief and that of his children, so he's sending Chloe and her younger brother to live in England for the summer. Chloe is not happy about spending weeks on her grandmother's estate, Grange Hall, but this may be her chance to escape the ghosts that have suddenly reappeared. Well, Chloe is about to learn that her encounters with ghosts are only just beginning…
On her first day in England, Chloe meets a strange young man in the woods. He's not dressed like anyone she's ever met, and, while Chloe is wary of him, she's also oddly drawn to this young man. His name is Alexander Reade, and Chloe soon realizes that Alex is not altogether "real." He's a ghost. Alex lived at Grange Hall long ago, and he is still very much connected to the house…and what happened there.
As Chloe learns more about Grange Hall's horrific past–and Alex's place in it–she finds herself developing some disturbing feelings for Alex. Chloe knows nothing can really come of a relationship with a ghost, but she can't help but fall a little more in love with him each day. That is a problem, especially when a vengeful spirit named Isobel is determined to do anything–even kill–to make sure Chloe and Alex remain apart.
What is Alex's connection to the mysterious and menacing Isobel? Can Chloe do anything to stop the approaching horror before someone gets caught in the crossfire? Is Chloe willing to sacrifice her beloved Alex–or herself–if it means stopping Isobel once and for all?
Join Chloe and Alex on a harrowing journey through life, death, revenge, and redemption when you read Ghost House by Alexandra Adornetto.
_______________
Ghost House is a great read for a dreary, rainy day. It started off kind of slow, but the action really picked up the more I read. I read the last three-quarters of the book in just a few hours, and the ending kind of threw me for a loop. I look forward to seeing how things progress for Chloe (and Alex) in the next book, Ghost Hour. (There's currently no publication date for book two, but I'm guessing we can expect it sometime next August.)
I would recommend Ghost House to teen (and adult) fans of books like Twilight, C.C. Hunter's Shadow Falls series, and even the ghost stories of Mary Downing Hahn.
For more information on Ghost House and author Alexandra Adornetto, visit her on Goodreads, Facebook, and Twitter. A book trailer is supposed to be released soon, but as of this posting, it's not available yet.