Caution: You MUST read the entire Shadow Falls series (Born at Midnight, Awake at Dawn, Taken at Dusk, Whispers at Moonrise, and Chosen at Nightfall) and Reborn, the first book in the Shadow Falls After Dark series, before even thinking about reading Eternal (or this somewhat spoilery post on it). I know that's a lot of reading, but it's worth it!
Thanks to NetGalley, I was able to read Eternal, book two in C.C. Hunter's Shadow Falls After Dark series, a couple months early. (It won't be released to the world until October 28th.) I loved the first series and Reborn, so I figured I'd feel the same way about Eternal. I did.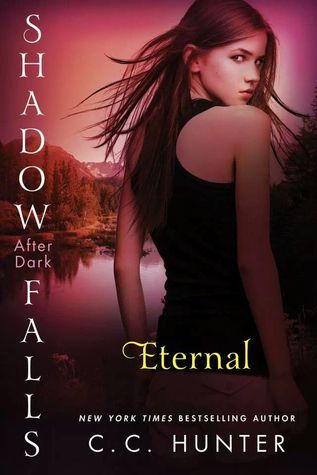 After being reborn and finding herself with powers beyond what a "normal" vampire possesses, Della Tsang is more determined than ever to work with the FRU, the agency that governs supernaturals, and to uncover the mysteries shadowing her family's past.
The sudden–and not entirely welcome–appearance of a ghost will make Della's life more confusing than ever. This ghost is trying to tell Della something about her family and showing glimpses of two captive young vampires who need to be saved from certain death. Who is this presence haunting Della, and can she figure out what the ghost is trying to tell her before it's too late?
Della is also working to unravel her feelings about two very different young men: Steve, a shapeshifter she's been sort of dating for the past month, and Chase, the enigmatic vampire who is now bonded to her and seems to know just when she needs him. Della isn't exactly thrilled about her connection to Chase, but even she can't deny that her feelings for him are growing. It doesn't help that Della and Chase are working closely together investigating a case for the FRU. Can she remain true to Steve when every part of her screams to be with Chase? And will fate take this decision out of her hands?
Della's world is in more turmoil than ever before. How is she supposed to do everything expected of her and still keep her cool? So much is weighing on her, and she's close to her breaking point. Della doesn't know which way to turn sometimes, and she feels like she's being pulled in opposite directions. A mysterious ghost, Steve, Chase, Burnett, her friends, and even her estranged family. Everyone seems to want a piece of Della. But who can she really trust? Can she even trust herself to do what's right?
Should Della remain loyal to Shadow Falls and the family she's chosen for herself there? Should she do whatever possible to uncover the truth–however painful it may be–about her father, who has all but turned his back on her? Should she take a chance with Chase, even though it could jeopardize everything she's been working for? Nothing is clear for Della Tsang, but she'll do whatever she must to find the answers she needs. And those answers may just lead her to even more questions…
_______________
I'll go ahead and warn those still reading: Eternal ends on a mother of a cliffhanger. If I had been reading a print copy of this book, I probably would have thrown it across the room. I can hardly wait to read the third book, but considering that Eternal isn't even out yet, I probably have quite the wait ahead of me. *Insert impatient sigh here.*
There is some good news, though! On September 30th, there is going to be an ebook novella released that's all about Chase, Della's nemesis/sometimes love interest. It's called Unbreakable, and if you check out this announcement on C.C. Hunter's website, you'll learn a lot more about what's sure to be a very enlightening read.
If you love books with supernatural goodness, I strongly urge you to check out both the Shadow Falls and Shadow Falls After Dark series. Both are excellent, and I'm looking forward to seeing more of Della's journey in the next book.
For more information on the books mentioned in this post or author C.C. Hunter, visit the author's website, Twitter, Facebook, or Goodreads.