Thank goodness for NetGalley! I've only been a member for a short while, but this awesome service has allowed me to be the first to read some pretty awesome books, including the first two books in C.C. Hunter's Shadow Falls After Dark series, Reborn and Eternal. Well, just two days ago, I was invited by NetGalley to read Unbreakable, a Shadow Falls After Dark eBook novella, which will be released to the masses on September 30th. (That was a pretty good surprise on an otherwise craptastic Monday.) Of course, I dropped everything and commenced with the reading.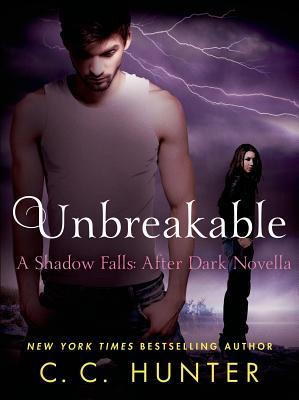 If you're at all familiar with the first two Shadow Falls After Dark books (or at least the first since Eternal doesn't come out until October 28th), you already know a little about the character of Chase Tallman. He's the oddly compelling vamp who turns Della's world topsy-turvy. But what do we really know about Chase? How did he become a vampire? What led him to Della?
Unbreakable answers a few questions about Chase, but several more are left unanswered. Readers learn a bit about his relationships with his family and his loyal dog, Baxter. We also see Chase's first brush with love and how that eventually led him to Della.
While we did see the tragic circumstances that led to Chase becoming a vampire, I do wish that part of the story had been a little more fleshed out. I wanted to see how he dealt with the aftermath. Also, there was really no mention of the whole "rebirth" thing, and I would have liked to see more of Chase's early days as a vamp. Maybe these things will get more attention in the next full-length novel (which I think should be out next summer).
If you'd like to learn more about Unbreakable and C.C. Hunter's other amazing books, be sure to check out the author's website here.