This one has been on my to-read list for quite some time, and I finally got around to it this weekend. The Spindlers, an upper elementary/middle grade novel from acclaimed author Lauren Oliver, is a fantastical tale that brings to mind such classics as Alice in Wonderland, The Wizard of Oz, and even The Chronicles of Narnia. It is rather scary at times, making it a perfect recommendation for younger readers looking for a spooky, Halloween read, but it also explores themes like hope, forgiveness, and perseverance.
Like Liesl & Po, The Spindlers is another great children's novel from Lauren Oliver!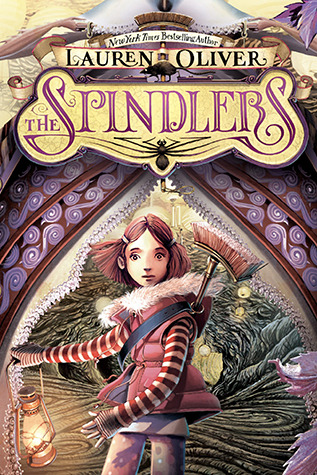 Something is very wrong with Liza's little brother, Patrick. Last night, he was his usual happy-go-lucky self. This morning, though, Patrick is different and wrong, and Liza is certain of what happened. The evil spindlers, spider-like creatures from Below, have stolen Patrick's soul. It's the only explanation. So what is Liza to do? Well, she's going to rescue her brother's soul, of course!
Liza braves the dark and finds an entrance to Below in her basement. Armed only with a broom, Liza enters this strange world in search of Patrick's soul, but nothing could have prepared her for what she would face. Almost immediately, Liza encounters Mirabella, a talking rat who wears a wig, makeup, and a skirt made out of newspaper.
Mirabella helps Liza navigate this strange new world, with all of its dangers and mysteries. Mirabella introduces Liza to troglods, nids, lumer-lumpen, nocturni, and several other creatures that inhabit Below. Some of those creatures are helpful. Others…not so much. The trick is knowing which is which.
As Liza and Mirabella travel through Below, they are getting closer and closer to the spindlers' nest…and to the captive souls within. The journey is becoming more perilous, but Liza is determined to rescue her brother before it's too late.
Will Liza be able to get past her own fear of the the spindlers to do what she must? Who can she rely on when help is needed? Can Liza rescue her brother's soul–and her own–before the spindlers get the best of her? Journey Below for these answers and more when you read The Spindlers by Lauren Oliver.
_______________
I plan to recommend this book to my 3rd-5th graders who can't get enough of spooky stories. The Spindlers has just enough scary stuff to keep them on the edge of their seats but not so much that it will give them nightmares (I hope).
I think anyone who reads The Spindlers will draw parallels to other works of fantasy, particularly those mentioned at the beginning of this post. The resemblance to Alice in Wonderland is likely the most apparent, and that may just be the hook needed to entice young–and older–readers to pick up this book. Further discussions on the similarities and differences between the two stories could prove to be rather interesting.
For more information on The Spindlers and other fabulous books by Lauren Oliver, check out the author's website, Twitter, Facebook, and Goodreads.