I finished a book today that I can hardly wait to share with my students and teachers at school. That book is Rain Reign by Ann M. Martin. It was released last week, and it's already earned a spot on several must-read lists. I predict that this book will find a place on several award lists as well. It's absolutely amazing, and this book should be included in every elementary and middle school library collection (at the very least).
In Rain Reign, we meet Rose Howard, a young girl who has been diagnosed with high-functioning autism (also known as Asperger's Syndrome). Her voice shines on every page, and readers get a small glimpse of what life is like for Rose. Rain Reign is a must-read for anyone–especially educators and other caregivers–who have any interaction with high-functioning autistic children. I know I was able to see one of my students in the character of Rose, and this excellent book may have provided me with just a bit more understanding.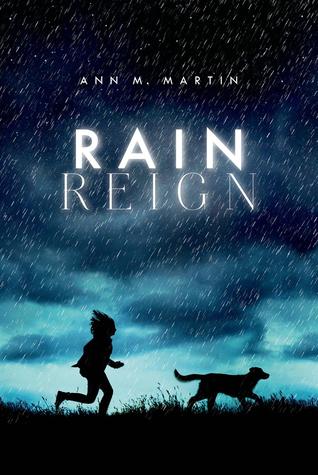 Fifth grader Rose Howard loves homonyms, prime numbers, rules, and her dog Rain (whose name has two homonyms). Rain is the one of the few gifts Rose's father has ever given her, and their bond is a strong one. When nearly everyone else–including Rose's father–gets irritated by Rose's obsessions, Rain is always there to provide a comforting and calming presence.
Comfort and calm is something that Rose will sorely need in the days to come. Hurricane Susan is making a beeline for Rose's small Massachusetts town, and her precious routines will be tossed to the winds. The power goes out, creeks turn into rivers, bridges are washed out, trees fall…and Rose's father lets Rain out of the house without checking on her return.
When the storm finally passes through, Rose realizes that her dog is missing. Did she forget her way home in the horrible storm? Was she carried downstream by the powerful currents? Where is Rain? Rose doesn't understand how her father could have let this happened, but she's determined to find her beloved dog…even if that means letting go of her routines.
Rose searches high and low for Rain. She enlists the help of her uncle, her teachers, and even her classmates. Rose does everything humanly possible to find her dog, but how will she handle it when she finds more than she was looking for? Will her world be thrown into yet another storm, and how will Rose–a girl who needs routine and consistency–deal with the fallout? How will she handle the many changes to come? Read Rain Reign by the brilliant Ann M. Martin to find out.
_______________
As soon as I return to school next week (I'm on fall break right now), I plan to hand this book over to my guidance counselor. (In addition to working with autistic students, she's also a dog lover.) Several other teachers may also benefit from reading this book. I think Rain Reign could be unbelievably useful in communicating with and understanding autistic students.
In addition to being enlightening for educators and students, parents of high-functioning autistic children may also find this book to be helpful, especially if the parents don't really know how to communicate with their children. Rose's uncle provides an example of a good caregiver. Her father is the opposite. As a matter of fact, I wanted to punch Rose's father in the face on more than one occasion.
Rain Reign is also a great book for students who have fondness for word and number play. This could even come into play in language arts or math lessons. Class studies of this book could include looking for homonyms that weren't mentioned by Rose or finding prime numbers out in the "real world." And don't even get me started on how this book could be used to illustrate character's voice. Read one chapter, and you'll see that for yourself.
I don't know that I've adequately conveyed it in this post, but I love everything about Rain Reign. It definitely tugged at the heartstrings (yes, I cried), but it taught valuable lessons. Rose was a brave girl who worked past her own issues when something was important to her. She tried to understand others even when it seemed like no one understood her. She always wanted to do the right thing and follow the rules…when it would have been much easier–and far less painful–to just "go with the flow." Rose is a character, much like August Pullman in R.J. Palacio's Wonder, who we'll be talking about for a long time to come.
For more information on Rain Reign and other books by Ann M. Martin, go to her official website, Facebook, Goodreads, or Twitter.
*I receive an advance copy of this book through Goodreads First Reads.*