Warning! Spoilers ahead! If you're not totally caught up with the entire I Am Number Four (Lorien Legacies) series, you might want to go ahead and take care of that. And when I say "totally caught up," I mean reading the four previous novels as well as all nine short stories. Here's a reading list to get you started.
The Legacies (novellas 1-3: Six's Legacy, Nine's Legacy, The Fallen Legacies)
Secret Histories (novellas 4-6: The Search for Sam, The Last Days of Lorien, The Forgotten Ones)
Hidden Enemy (novellas 7-9: Five's Legacy, Return to Paradise, Five's Betrayal)
In my opinion, it is essential to read the novellas to fully understand what's happening, particularly in The Fall of Five and The Revenge of Seven. These short stories add so much depth to the story, and they help readers really get to know the motivations that drive certain characters.
There are a few other journal entries and things that you may also want to take a look at. You can see a full list at Goodreads.com. (I plan to explore those as soon as I finish with this post.) For now, though, let's dive into the fifth novel in the Lorien Legacies saga, The Revenge of Seven.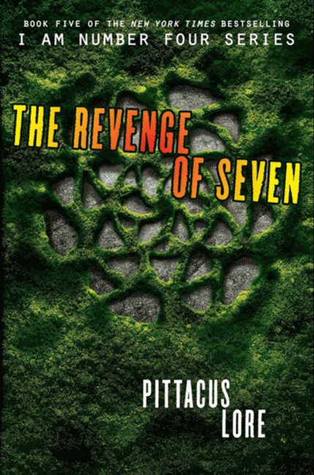 When last we left the remaining members of the Lorien Garde, things were looking rather bleak. An unexpected betrayal resulted in the death of one of their own. Now, the Garde is scattered and on the run. They don't know who they can trust or how deep the Mogadorian threat has infiltrated the government, but they know they must fight, or Earth will surely fall to the Mogs.
Four, Sarah, Sam, Malcom, and Adam (a Mogadorian who sympathizes with the Loric cause) escape from the horror that befell them in Chicago and journey to the Mog stronghold in Washington, DC. Their aim is to hit the Mogs where it hurts…and hopefully learn a thing or two that will help them win this war.
Six, Seven (Marina), and Nine are in Florida, and they've just endured a shock to their systems. They witnessed the betrayal of Five–a betrayal that resulted in Eight's death. They're reeling from what has happened, but they must also prepare for the battle to come…a battle in which the Mog forces are seemingly unbeatable. In their quest to get a jump on the Mogs, however, they'll receive help from an unlikely ally. This help gives them just enough time to flee the Mogs in Florida and join up with Four and company in their Washington stronghold.
In another turn of events, Ella (also known as Ten) has been captured by the vile Mog leader, Setrákus Ra, a sinister being who is more powerful than anyone she's ever encountered. Setrákus Ra is bent on the domination of Earth…and he wants Ella by his side when it happens. Why? What's so special about her? Why would Setrákus Ra want to ally himself with one of the Lorien Garde? Is there anything Ella can do to escape his clutches and warn the other members of the Garde of what is to come?
The Mogadorians are close to a full-scale invasion, and the Lorien Garde and their allies are the only beings capable of stopping them…even though the Garde is severely outnumbered. Is there any way for the Garde to claim victory, or is Setrákus Ra simply too powerful to stop?
The Loric and the Mogadorians are careening toward a war that will envelope the entire planet. Who will win? Who will lose? Well, that's not entirely clear. One thing is certain, though…something has just been unleashed that could change everything.
_______________
If it's not already clear, The Revenge of Seven is not the last book in this series. We've got one more novel to go (I think) and probably a few more novellas. Unlike The Fall of Five, though, I was at least a little prepared for the cliffhanger at the end of this book. No urges to fling the book across the room.
My mind is spinning from what happened at the end–and the implications for the next book–and I'm pretty sure that the final installment will be more action-packed than anything we've seen before. I doubt all of our heroes will survive until the end, but I foresee them doing a lot of damage to the hated Mogs before all is said and done.
A couple of my librarian friends actually judge me a bit for being so into this series, but I really don't care. (I'll never apologize for liking a book.) If you're looking for a series with loads of action, adventure, intrigue, suspense, aliens, government conspiracies, and even a teensy bit of romance, I think you'll enjoy the Lorien Legacies books as much as I do. And if you're anything like me, you'll probably be just as eager for the final installment as I am. (I just hope we get a somewhat happy ending. These kids have been through enough!)
There's no word yet on the title or release date for the next book, but I would expect it to be out in late summer of next year. The next series of novellas will come out before then. The ebook version of novella #10, The Fugitive, will be out on December 23rd.
For much more information on this exciting series, go to the I Am Number Four Fans website. You may also want to check out the book trailer for The Revenge of Seven below.
*A word of advice from me: Avoid the movie adaptation of the first book. It doesn't begin to compare to its source material.*