When I heard the author lineup for My True Love Gave to Me, an anthology of YA holiday stories, I immediately knew that I would have to read what I was sure would be an outstanding collection. With favorite authors like Ally Carter, Gayle Forman, David Levithan, Stephanie Perkins, Rainbow Rowell, Laini Taylor, and Kiersten White–among others–contributing short stories, I was hooked before I even started reading. And when I didn't think anything was ever going to get me in the holiday spirit this year (Humbug!), this book managed to fill me with a bit of cheer.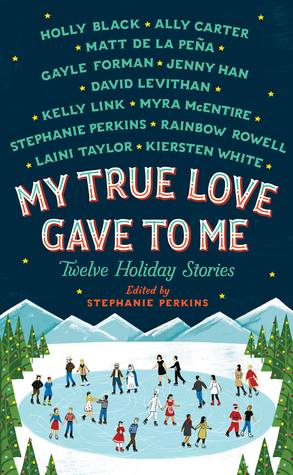 My True Love Gave to Me is a collection of twelve holiday stories that kind of touch on everything: New Year's, winter solstice, Hanukkah, Christmas, and even Krampuslauf (something I'd never heard of before). There's really something for everyone (except Festivus for the rest of us), and I think this would be a perfect gift for any teen reader…or adult reader who loves YA lit.
Now, I'm not going to go through each and every story here. That would take forever, and, honestly, it would probably spoil a couple of the stories for you. Instead, I'll briefly highlight a few of my favorite stories from this collection.
My favorite story in the collection comes from the book's editor herself, Stephanie Perkins. Her story is titled "It's a Yuletide Miracle, Charlie Brown." This short story, like Perkins' longer works, introduces readers to a true gem of a guy. North Drummond, like Étienne St. Clair, Cricket Bell, and Josh Wasserstein, is almost too good to be true, but that just makes me–and Marigold, his "love interest"–adore him more. He seems to really "get" Marigold, even though her life is less than traditional. He works to make her world a better one after knowing her only a short while. Every girl should be so lucky. (I'm militantly single, and even I felt my cold heart melting for North.) If you enjoyed Stephanie Perkins' enchanting novels, you'll likely feel the same way about this lovely story.
One of my other top picks from this collection was "Midnights" by Rainbow Rowell. (If you follow this blog at all, this should come as no surprise.) This story involves two best friends who seem to just miss being together at midnight each New Year's Eve. This year, though, things might just be a little different. (Since this is essentially a YA holiday romance anthology, you can probably guess what will happen. Even so, the story is heart-warming and brings on the feels.)
Finally, I have to talk a bit about "Star of Bethlehem" by Ally Carter. This was the only story in the book that actually made me cry. The basic premise is this: Mysterious girl exchanges plane tickets with someone else, pretends to be someone she's not (in order to hide from her own life), gets found out, and ultimately finds something she never knew she needed. Such a moving story that I had to grab a couple of tissues. There was a romantic element to this one, but, at least for me, this particular story was about the love that can be found with friends, family (not always blood relatives), and people who deeply care about what's really best for those they love.
Those were just three of the stories that really spoke to me. Truthfully, there's not a stinker in the bunch, and every story resonated with me in some way.
Whether you celebrate Christmas, Hanukkah, Yule, Krampuslauf, or no holiday at all, this collection is an outstanding, moving, entertaining read for anyone who believes in the power of love…in all of its many forms.