If you're a regular follower of this blog, you probably know that I will read anything that Cassandra Clare cares to write. So it should come as no surprise that I was eager to read the first book in her new middle grade series co-authored with Holly Black. Well, I finally got around to reading The Iron Trial, book one in the pair's five-part Magisterium series, over this holiday weekend, and I'm pleased to say that I thoroughly enjoyed it…and it's something I can add to my school library and promote to my students. (I think it's a great read for upper elementary on up.)
There are elements that many readers will find familiar in The Iron Trial. A boy learns he has magical abilities, goes to a hidden school for those of his kind, becomes close to two other kids (a boy and a girl) at this school, gets into a bit of trouble, and works to solve a mystery that could endanger his life and the lives of those around him. Sound familiar? Yeah, the similarities to Harry Potter can't be ignored…but they can be used to urge Potterheads to pick up this book. Readers will undoubtedly notice the parallels, but I also believe they'll be pleasantly surprised by how things are different. Clare and Black take the story we expect to read and turn it around on us, and I think most readers will be both shocked and intrigued with how this plays out. I know I was.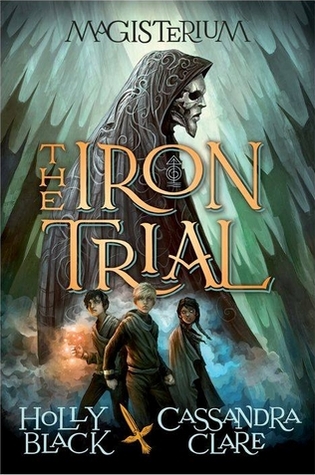 What kid wouldn't want magical powers? What kid wouldn't want to attend the Magisterium, a super-secret school to learn how to use those abilities? Callum Hunt, that's who.
For as long as Call can remember, his dad has told him that the Magisterium is evil and that he must do whatever it takes to fail the Iron Trial, a series of tests used to determine who earns a place at this magical school. And Call does his best to fail…and it looks like he's succeeded. He fails spectacularly and gets the lowest possible marks at the Iron Trial…but he's selected for the Magisterium anyway. Not only is he accepted; he's with one of the best mages, in the group with the most gifted apprentices. What's going on here? Why would anyone want him as an apprentice? What is so special about Callum Hunt, a kid with a bum leg who wants to be anywhere but here?
As Call begins his Iron year at the Magisterium and learns more about magic, he begins to wonder just what his dad had against the school and magic. Call is learning so much…and he's actually getting pretty good at his studies, despite his rather horrible start. His fellow apprentices, Aaron and Tamara, soon become his closest friends, and that's kind of a big deal to a kid who really didn't have friends before now.
Call is becoming more and more comfortable with himself and his abilities, so he's eager to learn just why his dad didn't want him here. Since Call is a curious sort with a certain disregard for rules, Call begins to investigate. He stumbles upon a few things that might answer some questions…or they might create even more.
It seems that Call's past is tied to the most feared being in the magical world, the Enemy of Death. This figure, cloaked in mystery, is responsible for the deaths of many, many mages–including Call's mother–and he's still out there, biding his time until he can use the forces of chaos to rise to power. The Magisterium has recently discovered its own weapon in the coming war with the Enemy…but will that be enough? What if the Enemy has already infiltrated the Magisterium? What will that mean for the Magisterium then? And what does all of this have to do with Call?
Soon, Call will come face-to-face with his past, his place at the Magisterium, and what it could mean for his future. He learns just why his father wanted to keep him from magic. What will Call do with this new and disturbing information? Time will tell…
_______________
I hope I haven't given too much away in this post. I want readers to be just as floored by the ending–and what it could mean for future books–as I was.
The second book, The Copper Gauntlet, is expected to be released sometime in the fall of 2015. I, for one, can hardly wait to read more about the adventures of Call, Aaron, and Tamara, and what they do with everything they learned in The Iron Trial. Should be interesting to say the least.
If you'd like to learn more about The Iron Trial, I encourage you to visit the official website. It has loads of information on the book, the authors, and the world of the Magisterium. There are also some games and other extras that look like fun. You may also want to take a quick peek at the video below. Enjoy!