Note: If you plan to read The Queen, a Selection novella by Kiera Cass, you really must read the books and novellas that preceded it…even though The Queen really serves as a prequel to all of them. Check out my posts on The Selection, The Elite, and The One if you're curious about this series. You also may want to read The Prince and The Guard, two more novellas that I didn't get around to posting on (probably because I'm lazy). All of this reading will help to put The Queen and its main characters in context.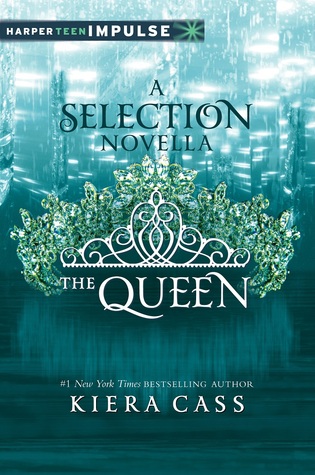 Before she was the Queen and mother to Prince Maxon, she was just a girl named Amberly…
When Amberly was chosen to take part in the Selection, she somehow knew destiny was at work. She'd been in love with Prince Clarkson for most of her life, and now she would have the chance–however slim–to become his wife. But could he look past her work-roughened hands, her near-constant headaches, and her caste? Could a prince possibly care about someone like her?
Somehow, Amberly manages to catch Clarkson's eye, and she's sure that he is at least beginning to return her feelings. She makes it clear that the Prince is the absolute center of her world, but is that enough to make her a future Queen?
Forces are working to keep Clarkson and Amberly apart–Clarkson's mother, the increasing threat of rebellion in Illéa, and a crisis that will jeopardize all of Amberly's plans for her future–but these two young people are nothing if not determined.
Clarkson will be the future King of Illéa, and he wants Amberly by his side. How will everything unfold? Read The Queen to find out!
_______________
So…if you haven't read The Selection series (and the obviousness of the novella's title escapes you), I've just spoiled this story for you. Yes, Amberly does become the Queen of Illéa, but it is interesting to read just how that happened.
This story also goes a long way in explaining why Amberly stayed with Clarkson when he was being such a butt-faced jerk in The Selection. When I read The Selection trilogy, I admit that I judged Amberly for sticking by Clarkson when he was acting like an asshole. (Sorry for the cursing, but that word is the most accurate one I could think of.) While I still judge her a bit for appearing to be a doormat, I at least understand her reasoning a little better. I don't approve, but I do understand.
To those who have read the entire Selection series, I think you'll be interested in how Amberly handled her place in the Selection versus how America dealt with things. Each girl had her own way of doing things, and each one faced their own set of unique circumstances, but there were some parallels in their backgrounds and in the way they interacted with their princes. Which girl had the better approach? I can't really say, so I'll leave that for you to ponder.
_______________
If you still haven't gotten enough of The Selection, have no fear! Kiera Cass is gracing us with more from this captivating world. The Favorite, another novella, will be released on March 3rd (my birthday!), and this one gives readers a glimpse at Marlee and her life with Carter.
Also–*insert fangirl squeal here*–The Heir, a whole new Selection novel, will be out on May 5th! Let's take a look at the absolutely gorgeous cover, shall we?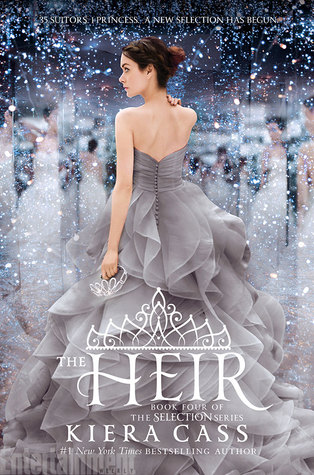 Pretty, pretty, pretty. Apparently, this book revolves around Princess Eadlyn, the daughter of America and Maxon, and her own Selection for a prince. If The Selection was The Bachelor on steroids, I guess now we're giving The Bachelorette her turn. I can hardly wait!
For more information on The Selection saga and author Kiera Cass, check out her website, Twitter, and the Selection Facebook page.