Spoilers ahead! If you haven't already read Hourglass by Myra McEntire, stop right here. This post is all about the second book in the series, Timepiece, and I will definitely spoil the first book for you if you keep reading. You've been warned!
Sometimes, second books in series leave much to be desired. They often seem like filler until we make it to the big finale. I'm happy to say that I didn't feel that way with Timepiece, the second book in Myra McEntire's Hourglass series. Yes, a lot happened that carried over from the first book, and that stuff will likely be resolved in book three, but Timepiece, thanks largely to an entirely new narrator, felt like a book with its own important story.
In this second installment, we see the action unfold through the eyes of Kaleb. You may recall that Kaleb is the son of Liam, the leader of the Hourglass, an organization devoted to those with special abilities related to time (and time-travel is just a small part of that). When we left Kaleb in Hourglass, we saw a young man who was dealing with a great deal of turmoil–the return of his father, his mother's precarious mental state, his growing feelings for his best friend's girl, and his own devastating personal demons. In Timepiece, Kaleb is facing all of those issues and many more…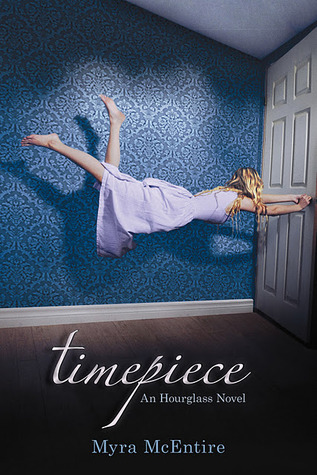 Kaleb Ballard may seem sure of himself on the outside–kind of cocky, tattoos and piercings to emphasize his tough-guy image–but he's really a whirling mess of self-doubt. His ability to feel the emotions of others makes him seek numbness at the bottom of a bottle, but circumstances are unfolding that will require Kaleb to maintain laser-like focus.
Jack Landers, the very man who attempted to destroy Liam, Kaleb's father, and took his mother's memories is back once more, and now the stakes are even higher. It's made perfectly clear that Jack, the fiend who is ripping time apart, must be stopped before he can inflict anymore pain.
Kaleb want to do his part to bring Jack to justice. Kaleb's dad, though, wants to keep Kaleb out of this fight. Liam confides in Michael and seeks out his assistance, and that grates on Kaleb. Why can't his dad trust him with everything that's going on? Is he that much of a disappointment? Surely there's something Kaleb can do to prove to his father that he can help in finding Jack and fixing whatever damage has been done to the splintering space-time continuum.
Soon enough, Kaleb finds himself embroiled in the quest to find the elusive Jack Landers. He's not alone, though. He receives support from Michael, Emerson, and, oddly enough, from Emerson's best friend, Lily (who has her own supernatural abilities). Not too long ago, Kaleb was plagued with feelings for Emerson, but Lily is changing everything. She doesn't buy into his bad boy image, and that allows Kaleb to actually be real with a girl for the first time. But it's hard to build a future with a girl when time itself is unraveling around them.
Time is ripping apart all around Kaleb and his friends. If they don't do something fast–find some way to stop Jack in his mad dash for power–everything they know will be torn to shreds. Can they foil Jack's plans and restore the memories he's stolen from so many? Or will their search for truth put them in even more danger? Read Timepiece, the thrilling second book in the Hourglass series, to find out!
_______________
I'm the first to admit that time-travel fiction messes with my head, and Timepiece is no different. It confused the crap out of me, and I have to say that it wasn't an entirely unpleasant feeling. Anything that makes me think is good in my book. Also, I love the "wibbly-wobbly, timey-wimey" quality of this entire series. It's all very Doctor Who (which makes sense because the author is a fan of the show). I am a die-hard Whovian myself, so anything that reminds me of The Doctor is simply fantastic.
Even though Timepiece had a fair amount of resolution at the end, questions still abound. The final moments of the book indicate that things are going to get much more confusing before any clarity shines through. The search is now on for the mysterious Infinityglass, the one thing that could stop Jack's machinations and finally repair time once and for all. I'm confident that the search will not be an easy one, and things will get much worse before they get better for Kaleb, Lily, Emerson, and Michael. I can hardly wait to see how everything plays out!
Luckily, I don't have to wait long to see what happens here since Infinityglass, book three in the series, is already out. I've just got a few other books to finish, and then I'll devote some time to wrapping up this intriguing series.
For more information on Timepiece, the other Hourglass novels, and Myra McEntire, check out the author's website, Goodreads, and Twitter. Happy reading!