Last night, I finished reading yet another excellent story by Kiersten White. After reading her other works (the Paranormalcy trilogy, The Chaos of Stars, Mind Games, Perfect Lies, and In the Shadows), I was expecting a great book, and I'm thrilled to say that I got one in Illusions of Fate. The wonderful Ms. White did not disappoint.
In her latest novel, Kiersten White weaves an intricate tale of magic, suspicion, and intrigue. Illusions of Fate is something of an historical fantasy and reminds me a bit of Cassie Clare's Infernal Devices trilogy (a mark in the book's favor). In this stand-alone novel, however, the world seems to be entirely fictional. It bears some resemblance to Victorian England, but White's nation of Albion has it's own societal constructs, political maneuvering, and disregard–and even rebellion against–the status quo. That's where our main character, Jessamin, comes in…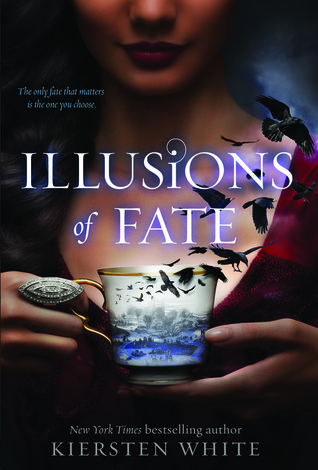 Jessamin is perfectly aware that she doesn't fit in with the majority of people in drab, colorless Albion. In fact, she wouldn't even be there if not for persuading her father to see to her education. And if Jessamin were still on her island home of Melei, she probably wouldn't find herself in the midst of a power struggle like none she ever realized could exist. Then again, fate may have had plans for Jessamin all along…
Jessamin couldn't know that her life is going to change forever when she decides to walk through an unfamiliar alley. That decision leads her to a young man named Finn, a noble with strange abilities who can't seem to help his fascination with Jessamin. Both parties do their best to ignore the other, but fate, circumstances–and observant foes–continue to throw the two together. Soon enough, it becomes clear that Finn's enthrallment with and connection to Jessamin have made her a target of perhaps the most dangerous man in all of Albion.
The nefarious Lord Downpike, also Albion's Minister of Defense, wants something from Finn, and he sees Jessamin as his way to get what he wants. And what is it that Downpike desires? Control of all magical lines and limitless power. Only Finn stands in his way. Or so he thinks.
It seems that Jessamin isn't as easily swayed as most of the young women of Lord Downpike's acquaintance. She doesn't take being tortured or threatened lightly, and she is determined to stand up to the evil bearing down on those she cares for. She won't run away and hide as Finn suggests. She won't allow Finn–a young man who is coming to mean more to her than anyone else–to fight this battle alone. No, she doesn't have the magical abilities of Finn or Lord Downpike, but she does have her wits…and a smart woman can certainly be the downfall of an overconfident man. But how?
What will Jessamin have to do to outwit the evil Lord Downpike? What sacrifices will she have to make to prevent this vile man from taking away everything she loves? What secrets will Jessamin uncover along the way?
Will fate decide the path of Jessamin's life, or will she be the mistress of her own destiny? Answer these questions and many more when you read Illusions of Fate by Kiersten White.
_______________
I hope I've hit the highlights of this wonderful book, but I'm sure I've left out quite a bit. (Actually, as I'm typing this, I realize that I didn't even mention the birds and what they meant to the plot. Kind of a big deal. Oh well.) There's a lot going on in this book, so I can't possibly address all of it in a single blog post. I wouldn't want to anyway. That would ruin things, wouldn't it? Suffice it to say, Illusions of Fate is a magical story that kept me enraptured from the very beginning, and I hope you will feel the same.
If you're looking for one more book featuring a kick-butt female character, I urge you to add Illusions of Fate to your list. Jessamin experienced some true horrors at the hands of a powerful man, but she didn't cower like some shrinking violet…even though that would have been infinitely easier. No, she stood up for herself and those she loved. She used her brain to outsmart those who would oppress, torture, or kill her. She remained true to herself, even when it meant defying those who sought to protect her. Did it all work out in the end? Well, I won't tell you that, but I will say that Jessamin is a character to be admired, and I hope many teen (and adult) readers follow her example of doing what she must to halt the spread of evil.
For those who want to learn more about Illusions of Fate and other books by the fabulous Kiersten White, I encourage you to visit the author's website and Twitter feed. As for me, I'll just sit here and eagerly await Kiersten White's next book.*
*Not really. I've got loads more books to read in the meantime, but I guarantee I'll be on the lookout for the next great book from this outstanding YA author.*