*Read all of Cassandra Clare's Shadowhunter books before continuing. At this point, if you follow this blog regularly and haven't read every last one of those books, I'm kind of disappointed. That is all.*
So, I totally should have done this when each of the novellas in The Bane Chronicles were released, but I can't go back and change things until the Doctor and his TARDIS show up in my front yard. (I have high hopes.) Anyway, I figure I can do things right with the highly anticipated Tales of Shadowhunter Academy.
Like The Bane Chronicles, a new ebook novella in this collection will be released each month, and the stories will be printed together down the road. I'm planning to write about each story as it's released so that I won't have to go over everything again when the print volume makes its way to my hands. We'll start with the first story, Welcome to Shadowhunter Academy written by Cassandra Clare and Sarah Rees Brennan, which was released yesterday.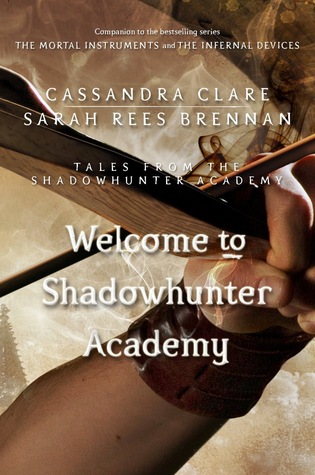 This first novella begins after the big Dark War with Sebastian, Clary's horrible, evil brother. The Shadowhunters are trying to refill their ranks after losing so many in the war, so they've reopened the Shadowhunter Academy in Idris. One of their first students is Simon Lewis.
Simon, who was once a vampire and now has very little memory of his former life, is trying to become the hero he used to be. He knows he's a different person than Clary, Jace, and especially Isabelle remember, and he figures the Academy may be the place to find that young man once again.
Things don't exactly get off to a great start at the Academy, though. The school is basically falling apart around its students, half of the teachers have left, the food is abysmal, and the bathrooms are worse. To make matters worse, there is serious attitude from the descendants of Shadowhunters toward their mundane classmates.
Simon, who has ties to both sides but feels like he belongs to neither, is struggling. Everyone knows him as a hero, but he's having a tough time proving that to those around him…and to himself. He's not thrilled with the blatant prejudices against mundanes and Downworlders. (Let's not forget he used to be a vampire, his roommate was a werewolf, and he's got some fairly strong ties to everyone's favorite warlock.) He's also dealing with the increasing memories of his former life and his confusing feelings for Isabelle Lightwood. Is she still his girlfriend? Does he want her to be?
Life is not going to be easy for Simon Lewis anytime soon, but, with the support of a couple of new friends, he may just find that he's always been the hero of his own story. What will that mean for his life back home? Well, we'll just have to wait and see…
_______________
I think this was a strong story to start the Tales from Shadowhunter Academy. Readers get quite a bit of insight into Simon's rather tortured mind, and I think we have a greater understanding of why he's making the choices he is. It can't be easy to only have bits and pieces of memories and not recognize the guy others refer to as a hero. So what does Simon do? He does the only thing he can think of to bring that guy back to life, so to speak. Will things work out like Simon wants (or like all of us reading want)? I have no idea, but I'm sure the ride will be a great one.
Welcome to Shadowhunter Academy gave us a few more characters to love, and I'd be remiss if I didn't mention a couple of them. First and foremost in my mind is Simon's roommate, George Lovelace. What a great addition to this series! He's charming, good-looking, funny…and Scottish! And he, like Simon, brings his own distorted past to the Academy. I really look forward to seeing more of this guy.
Another character I was happy to see was Catarina Loss. We've seen this blue warlock before, but I was thrilled with her appearance in this story. I think this warlock is going to add an interesting dimension to Simon's days at the Academy, and I'm hoping her revelation that Ragnor Fell previously taught there will make its way into future stories.
The next tale in this collection is The Lost Herondale, and it is set for release on March 17th. If you'd like to learn more, check out the synopsis on Goodreads. I must say that I am definitely intrigued!
For more information on Cassandra Clare and all things Shadowhunter, visit her website, Facebook, Twitter, and Tumblr.