It's difficult to describe my feelings on Gayle Forman's latest book, I Was Here, but I'll do my best. Don't be surprised, though, if this post is a bit different from most others.
I Was Here deals with something that is hard to discuss. Suicide and those left to pick up the pieces. I won't go into how suicide has touched my own life, but I will say that this book brought back all of the feelings of pain, grief, and guilt. No matter what anyone says, suicide doesn't just impact the one contemplating or going through with it. It leaves total wreckage behind, and that's what Cody, this book's protagonist, is facing.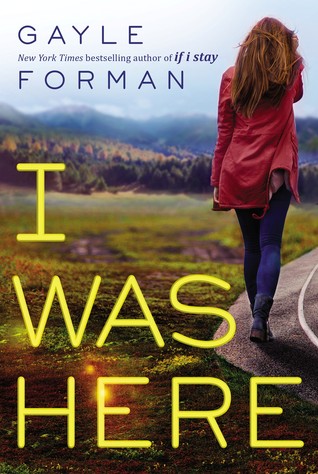 Cody and Meg were once as close as sisters, so how is it possible that Cody had no idea that her best friend was suicidal? Is there anything Cody could have done to stop Meg from carrying out the elaborate plan that would end her life? How can Cody go on without her other half, the friend who meant the world to her? And how can she figure out just what drove Meg to do the unthinkable?
All of these questions are plaguing Cody, and she is determined to find the answers that she needs. Her search leads her to Meg's college apartment and a life that Cody was never a part of. She talks to Meg's roommates and her friends in Seattle, including the enigmatic Ben McCallister, a young man with his own guilt about what happened to Meg. No one seems to know why Meg would have committed suicide, and Cody is growing frustrated with what seems to be a fruitless quest for the truth…until she discovers an encrypted file on Meg's computer.
With a little help, Cody discovers exactly what Meg was hiding, and her investigation becomes even more intense. Cody becomes obsessed with Meg's journey to suicide, and she's getting drawn into something that is taking over her own life. She needs to find a reason for Meg's decision, someone to blame for this horrible act that threw everything she thought she knew into a tailspin.
But will Cody really be prepared for what she uncovers? What will she do with the information? Will it change anything? And who will be there to help Cody pick up the pieces of her shattered life now that her best friend is gone?
Read I Was Here by Gayle Forman to learn how one young woman tries to live while attempting to find out why her best friend wanted to die.
_______________
I Was Here was not an easy book for me to read. I had to put it down several times because I was, quite simply, getting too emotional. I'm still not exactly sure how I feel about some parts of the book. I guess some things may have hit a little too close to home. I will say, however, that I think this is an important book. It deals with subjects–suicide and depression–that many young people are facing…but not talking about. Nothing is glossed over or treated with the least bit of glamour (something the media tends to do with suicide). I Was Here is an honest look at what's left behind when loved ones end their own lives. The feelings of guilt, loss, and hopelessness. It's something that never really goes away.
I hope that this book, like Jay Asher's Thirteen Reasons Why, opens up a dialog about depression and suicidal thoughts. Young people need to realize that they are not alone, and, as trite as it sometimes sounds, things really do get better. The darkness will eventually pass. The road may not be easy, but it's worth it, and no one has to walk it alone.
If you or someone you know is dealing with depression or suicide, please talk to a trusted friend or adult. Seek help. Call the National Foundation for Suicide Prevention lifeline at 800-273-TALK. Go to the American Foundation for Suicide Prevention's website to learn more about warning signs and how to find local support groups for survivors.