Warning: Before proceeding with this book, you MUST read I Hunt Killers and Game. Preferably during daylight hours. Or with every light in the house on. And maybe a baseball bat by your side. And a therapist on speed-dial.
Normally, I like to think a bit about a book before I post on it. That is not the case with Blood of My Blood, the third and final book in Barry Lyga's Jasper Dent trilogy. No, I have to get my thoughts on this book out right now…and then watch a Disney movie or look at pictures of baby pandas before I try to go to sleep.
To say that Blood of My Blood is horrifying and upsetting is a gross understatement. That being said…it was a great book and completely lived up to its predecessors. It continues the story of Jasper Dent and his search for the truth about his father, one of the world's most prolific serial killers, Billy Dent.
When last we left Jasper (also known as Jazz), his girlfriend Connie, and his best friend Howie, each of them were facing life-threatening situations. Jazz was seriously injured and trapped in a storage unit. Howie, a hemophiliac, was bleeding out on the floor of Jasper's grandmother's house. And Connie had just come face-to-face with her worst nightmare–Billy Dent himself. But that's really just the beginning of the horrors to come.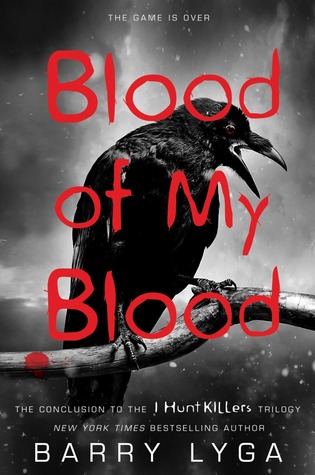 Things are looking bleak for Jasper Dent. Yes, he's helped the NYPD track down a team of serial killers, but at what cost? An FBI agent is dead, and fingers are starting to point at Jazz. His father, the infamous Billy Dent, is on the loose, and some are beginning to wonder if father and son are working together. Jazz can't convince the police of his innocence–even when it is revealed that his girlfriend has narrowly escaped Billy's clutches–so he does the only thing he can think of. He goes in search of Billy himself.
Jazz tries his best to disconnect from everything he's ever loved in his hunt for Billy, but his past keeps creeping in. He thinks of his loyal best friend, Howie, and Connie is never far from his mind. Jazz also thinks about his mom, a woman who left when he was just a child but who may now be in Billy's grasp once again. Can he protect all of these people, do what he feels needs to be done, and still hold on to his humanity? Is that even a possibility anymore? Or is Jazz really turning into his father's son?
As Jazz gets closer and closer to Billy, pieces of his past are becoming clearer, and neither Jazz nor those around him may be prepared for what is eventually revealed. It seems that Billy is not the worst evil to be encountered. No, a malignant force called the Crow King is bearing down on Jazz and will change everything he's ever believed about his father and himself.
How will it all end? I'll leave that for you to find out…
_______________
After reading the first two books in this series (and thoroughly enjoying them), I knew I had to read Blood of My Blood. While I'm glad I finally found time to devote to this book, I have to say that I thought it was the most disturbing of the entire trilogy. At times, I really had to resist the urge to throw up. It wasn't that the imagery was particularly graphic–although it was at times. No, what really got to me were Jazz's traumatic memories. I won't go into details here, but I will say that this kid never really had much of a chance. From Billy's "teachings" to the other snippets of a horrible childhood, it's a wonder Jazz didn't turn into a raging psychopath.
I don't know what more I can say about this trilogy as a whole. If you like psychological thrillers or enjoy shows like Criminal Minds, this might be the series for you. I warn some readers that the content can be upsetting. I doubt I'd recommend this book for middle grade readers or those who scare easily.
If you'd like to learn more about Blood of My Blood and the other books in this trilogy, check out author Barry Lyga's website.
Now, I must watch a light-hearted Disney movie to get all these thoughts of murder and serial killers out of my head. (And now that I'm thinking about it, there aren't many Disney films without crazed killers. Maybe I'll just watch a few episodes of Friends on Netflix.)