I grew up loving The Wizard of Oz. I watched the movie almost incessantly, and I read the book as soon as I was old enough to understand most of the words. As I got older, though, I was less intrigued with Dorothy's journey and more interested in the Wicked Witch. (Dorothy seemed like kind of a goody-two-shoes to me. Boring.) That interest only intensified the first time I saw Wicked (which remains my absolute favorite musical).
It shouldn't surprise anyone, then, that I thoroughly enjoyed reading Danielle Paige's Dorothy Must Die, a book that delves into what happened after the Wicked Witch was gone and Dorothy returned to Kansas. It seems that Dorothy didn't stay in Kansas very long, and she didn't exactly remain the good girl that everyone remembers…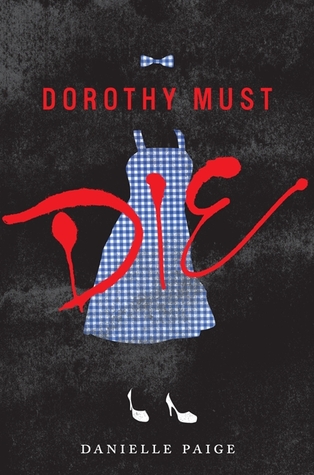 Amy Gumm's life in Kansas is less than stellar. She's something of an outcast at school. She gets in trouble for fighting with a pregnant girl (who totally started the fight in the first place). Her relationship with her mother is strained to say the least. She'd dearly love to escape her many worries. Well, Amy should probably be careful what she wishes for…
When a tornado rips through town, it takes Amy and her home with it. And where does Amy land? Oz, of course. (Where else would a girl from Kansas caught up in a tornado land?!) But this is not the Oz Amy remembers from film and books. No, this Oz is terrifying, bleak, and seemingly devoid of the magic that should be all around. What happened here?
Well, as it turns out, Dorothy happened here. After her time in Oz, life in Kansas just couldn't compare, so she found her way back…and proceeded to completely take over. Now, the monkeys, Munchkins, and other creatures are essentially enslaved. They do Dorothy's bidding or they find themselves in for a world of hurt. That "hurt" comes from the Scarecrow (who performs horrifying experiments on those who anger Dorothy), the Tin Woodsman (who has knives for fingers and leads an army of tin soldiers), and the Lion (who has left cowardly behind and delights on feeding off of others' fear). And let's not forget Glinda, the "Good" Witch, who is now Dorothy's adviser and oversees many of the twit's projects. So, yeah, it's not a great time to be in Oz.
So what is Amy to do in this frightening, unfamiliar Oz? How can she get back home? She doesn't exactly have the warm-ish welcome that Dorothy enjoyed all those years ago. All she knows is what she remembers from the book and movie based on this place, and there's no resemblance to that now. Even the yellow brick road is crumbling.
Amy does the only thing she can think of. She starts toward the Emerald City…but that may not be the smartest thing to do these days. Amy encounters many dangers–and a couple of potential friends–along the way, and she finds herself in the clutches of Dorothy herself (who turns out to be the most evil, sadistic you-know-what imaginable).
Luckily (depending on one's point of view), Amy eventually receives help from a rather interesting source. The Revolutionary Order of the Wicked. This group of Wicked Witches rescues Amy from certain death at the hand of Dorothy and the Scarecrow, but the witches' help is not without its price. They want Amy's assistance with something. Something that only Amy, a girl from Kansas, can do.
They want her to kill Dorothy.
Even though Amy has seen Dorothy's cruelty first-hand, she doesn't quite know how she feels about killing her. (The lines between Good and Wicked are becoming blurrier by the second.) Even so, she trains with the Order and discovers she's got a bit of magic of her own. Amy's new-found skills and powers give her confidence, something she's never really had before. She's strong, and she knows she can put an end to Dorothy's reign of terror…but will she?
Amy's resolve is soon put to the test, and, as she learns more and more about what's really going on in Oz, the more determined she becomes to see this thing through. But will things be as straightforward as she's been led to believe? Who can she depend on to have her back when things go sour? And is she really getting the whole story from the Order, or is more going on in Oz than even they know?
Read Dorothy Must Die, the first book in a thrilling series by Danielle Paige, to see just what Amy encounters when she goes "over the rainbow." No happy little bluebirds here, folks.
_______________
If it wasn't already apparent, I adored this book. I can hardly wait to dive into the three prequel novellas that are already out (and waiting on my Kindle). If you're curious, those are No Place Like Oz, The Witch Must Burn, and The Wizard Returns. The second full-length novel in this series, The Wicked Will Rise, comes out on March 31st, and a fourth prequel novella, Heart of Tin, will be out on July 28th. Lots to look forward to!
Dorothy Must Die is a perfect read for those who enjoy fractured fairy tales or readers who always wonder what happens after the story ends. This wonderful book tells us that it's not always the happily ever after we envision…which is kind of cool.
I have to admit that this book has forever changed how I look at The Wizard of Oz. I don't think I can ever view the Scarecrow as the lovable dolt I've always known. No, both he and the Tin Man are now the stuff of nightmares. The Lion is in another category entirely. He is beyond nightmare status, and I really wish he'd stayed cowardly.
I don't know yet where this series will lead or how it will further change my perception of Oz and its inhabitants, but I look forward to the journey!
If I still haven't convinced you to give this book a try, check out the book trailer below. You may also want to connect with author Danielle Paige on Goodreads, Twitter, or Facebook.