Caution! If you haven't read every story in Amy Plum's Revenants series–Die for Me, Until I Die, Die for Her (an ebook novella), and If I Should Die—turn back now! I'd hate to ruin this magnificent series for you…but I will.
If you're still with me, I assume you're caught up on all things Revenant. Today, I'll be taking a quick look at the second novella in this series, Die Once More. This story, like Die For Her, is told from Jules' perspective. It takes place just after the events of If I Should Die, which essentially wrapped up what was happening with the Revenants in Paris.
*For those of you who failed to heed my warning above and are still reading this, Revenants are less creepy versions of zombies. Good Revenants, or bardia, originally died saving another's life and are reborn to continue that cycle for eternity. Bad Revenants, or numa, gain power through killing others or convincing others to kill themselves. There's a bit more to it than this simplistic explanation, but this will have to do for now.*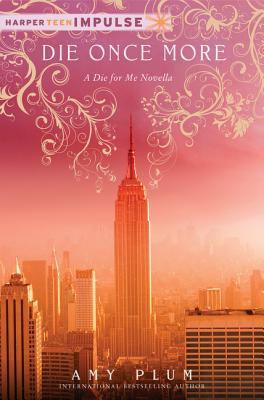 Jules Marchenoir has left everything he loves behind. His country. His best friend, Vincent. And Kate, new Champion of the bardia, his best friend's girlfriend…and the girl who stole Jules' heart. It's just too painful to be in the same city as Kate and Vincent, so Jules crosses the Atlantic and joins up with the Revenants in New York.
Almost immediately, Jules is struck by how the bardia of New York compare to those in Paris. Thought there are many more Revenants here than there were in France, things seem to be very efficient here. That's thanks largely to Ava Whitefoot, a striking woman who seems to loathe Jules on sight.
Jules knows he's never met Ava in his many years as a bardia, so he doesn't understand why she dislikes him so much. Soon, however, both people will have to put any animosity aside as they work to take down the building numa threat in New York. The numa in France may have been defeated, but those in New York are gaining strength every day.
In a story that takes us from the streets of Brooklyn to the boulevards of Paris, Jules and Ava will learn much about what makes each other tick, and they'll discover that first impressions may just be deceiving.
Will Ava be able to look past Jules' womanizing reputation and see the man he is trying to become? Will Jules be able to support Ava when she needs it the most? Can these two bardia find a way to become friends–or more–with the numa threat and a new challenge facing them? Read Die Once More to find out!
_______________
I know Die Once More is focused on Jules and his developing relationship with Ava, but I must admit that I would have liked to see a little more action at the end. We're told that there's this big battle with the numa, but we don't see the actual battle. That was kind of disappointing.
Other than that one complaint, I did enjoy this quick read. I liked Jules immensely in the previous stories, so (SPOILERS!) I enjoyed seeing him begin to get over Kate, reunite with his brethren, and find a partner of his own. I also appreciated seeing familiar, loved characters from the original trilogy and how they were faring post-battle. Hopefully, we haven't seen the last of the bardia (in either Paris or New York).
If you'd like to learn a bit more about this series as a whole, I encourage you to check out my reviews linked above. You may also want to visit Amy Plum's website.
Au revoir!