People often ask me what my favorite movie is. Most of those people expect me to name The Empire Strikes Back, Ghostbusters, The Avengers, The Goonies, or Monty Python and the Holy Grail as my all-time favorite. And while I do adore those movies (and many others), there is one that leaves them all behind.
The Princess Bride. My feelings about this movie (and the book) go way beyond adoration. I can (and often do) quote entire passages from the film, much to the dismay of those around me. Even my three-year-old niece has told me to be quiet while we're watching The Princess Bride together. (She loves it, by the way. The kid has good taste.) I have a framed poster of Buttercup and Westley hanging in my bedroom. I have several t-shirts featuring quotes from the book/movie. I watch the movie at least once a month, and I try to reread the book every year (and this has been my pattern for the past 20+ years). So, yeah…I LOVE The Princess Bride.
I tell you all of that to explain why I picked up my latest read, As You Wish: Inconceivable Tales from the Making of The Princess Bride. This book, written by Cary Elwes (better known as Westley) and Joe Layden, takes a peek behind the scenes of what I would argue is one of the greatest–and most underrated–movies of all time. (I was even reading this book while I had The Princess Bride on in the background. I may have a small obsession.)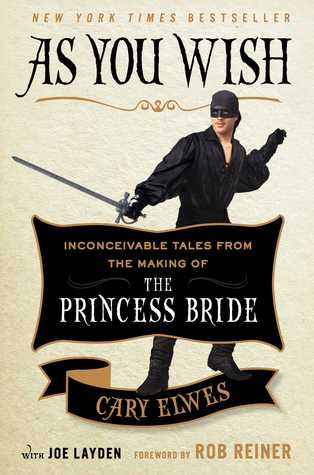 Now, I'm not going to go into the plot of The Princess Bride here. No, you really must experience that for yourself. Instead, I'll discuss As You Wish just a bit in the hopes that those who enjoy this movie as much as I do will find something to fall in love with all over again.
In As You Wish, Cary Elwes–better known as Westley or the Man in Black–takes readers on a journey. We see the earliest days of this movie, which many studios did not want to touch. We see Rob Reiner work to get a film close to his heart to the big screen. We see amazing casting decisions that would play a large part in vaulting the film to cult status (eventually). Through it all, we see that each person who had a hand in making The Princess Bride knew it was something special.
As You Wish gives readers a look at the intense training that went into the Greatest Swordfight in Modern Times, the laughter that took over the set whenever Billy Crystal (Miracle Max) opened his mouth, and the awe generated simply by being in the same room as Andre the Giant.
Cary Elwes shares some very personal, funny, and often poignant memories with fans of The Princess Bride, but we also hear from such notable figures as Rob Reiner (director), Robin Wright (Buttercup), Mandy Patinkin (Inigo Montoya), Christopher Guest (Count Rugen), Chris Sarandon (Prince Humperdink), Carol Kane (Valerie), Wallace Shawn (Vizzini), William Goldman (author/screenwriter), Andy Scheinman (producer), and, of course, Billy Crystal. Their contributions to this book make it so much richer than it may otherwise have been.
_______________
I can't possibly touch on everything that is covered in this book, but I can tell you that I laughed, I teared up a bit, and I reminisced about The Princess Bride's place in my own childhood (and my adult life). As You Wish is a gentle reminder that this movie means as much to those who brought it to life as it does to the fans who love it so much.
If you love The Princess Bride as much as I do–or even if you're just a casual fan–I strongly urge you to read As You Wish. Having this small glimpse behind the scenes makes me appreciate this beloved film even more, and my hope is that you'll feel the same.
If you'd like to learn more about all things Princess Bride–and find your own bit of tweasure–I urge you to visit princessbrideforever.com. It's a good place to spend a couple of hours.
"Have fun storming the castle!"