Late last night, I finished reading Ally Carter's latest novel, All Fall Down, the first book in her new Embassy Row series. Having read her Gallagher Girls and Heist Society series, I figured that I would immediately fall in love with Carter's newest work. Well, I can't exactly call it love at first read, but I do think this series is promising. Let's dive in, shall we?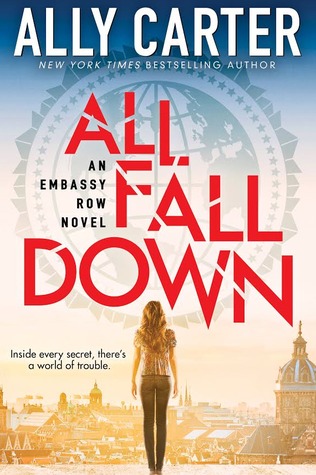 Three years ago, Grace Blakely witnessed the death of her mother. She tried to convince everyone that it was no accident, but no one would listen to her. They all thought she was crazy, and she spent the next few years moving from therapist to therapist, hospital to hospital, drug to drug. She still believes that her mother was murdered, but Grace has learned to keep her thoughts to herself.
Now, with her military father deployed, Grace is returning to the land where her mother grew up. She's living with her grandfather now, but her grandfather isn't some kindly old guy who's retired and spends his days fishing or gardening. No, he's the U.S. Ambassador to the country of Adria, and Grace is now living in her mom's old room at the Embassy. No pressure to act normal here.
As Grace tries to adapt to her surroundings–which are familiar but different at the same time–she also encounters some new–and old–friends who are looking out for her and trying to make her feel welcome. There's Noah, son of two ambassadors, who appoints himself as Grace's best friend. There's Rosie, a young girl from the German Embassy, who has the impressive ability of blending into the shadows (and getting loads of information). There's Megan, a former playmate of Grace's, who has depths that surprise everyone. And then there's Alexei, son of the Russian Ambassador, best friend of Grace's brother, and her self-appointed protector. Even with all of these people, though, Grace feels totally alone.
Grace is haunted by her past, and her worlds collide when she sees someone in Adria who everyone says is a figment of her imagination. The Scarred Man who killed her mother. None of the adults around her believe Grace's tales of the Scarred Man, so she seeks the help of her fellow Embassy kids. Together, they search high and low (sometimes very, very low) for information about the Scarred Man, proof of his past crimes, and clues pointing to his next target.
While Grace is seeking the truth about her mother's death, everything around her seems to be spinning out of control. She doesn't really know who she can trust, who will believe her…or who will ultimately betray her. And in a world where one misstep can have international ramifications, Grace may just find herself in the middle of something she never could have foreseen. Something that may change everything.
Is Grace prepared for what she will discover about her mom and herself? Or will the truth ultimately tear her apart? Begin to unravel the mystery when you read All Fall Down by Ally Carter.
_______________
Like I said at the beginning of this post, I think the Embassy Row series shows great promise, but I did have a couple of issues with this book. The biggest problem for me was that some of the action sequences and changes were rather abrupt. I found myself going back and rereading several passages because I was sure I had to have missed something. (I even looked to see if pages were missing from my copy of the book. No dice.) Some things just happened way too suddenly, and there was very little explanation about why things unfolded the way they did. (This was especially true at the end of the book.) I'm hopeful that this will be ironed out in the next book.
I also didn't quite get the relationship between Grace and Alexei. For most of the book, Alexei was a big brother figure with questionable motives. By the end of the book, we're supposed to believe there's the possibility of a budding romance between Grace and Alexei…but then he disappears without a word (which was, again, rather abrupt and unexpected). I guess I just didn't see these two as a potential couple. It didn't make sense in this book, but I have a feeling we'll see Alexei again in future books, and maybe that relationship will feel a bit more natural.
Speaking of the next book in this series, it should be released sometime in 2016. There's currently no title listed on Goodreads, but I'm sure that will be remedied soon. There is, however, a bonus scene available, Before the Fall: Arrival, that is already out, and you can read it for free. Given the title, I'm guessing this 15-page short story highlights Grace's arrival in Adria. I'll take a look at it soon.
In conclusion (because it's almost time for bed), I would like to say that, even with its faults, I did like All Fall Down, and I will likely continue with the rest of the series. I'd recommend this book to both middle grade and young adult readers who like a bit of political intrigue in their books. I look forward to seeing where Grace's story leads and how this girl navigates the tough waters of international politics while trying to have a somewhat normal life. Should be interesting.
For more information about All Fall Down, the future of the Embassy Row series, and the author's other books, check out Ally Carter's website, Twitter, and Facebook page.