For the past week or so, I've been reading All the Rage by Courtney Summers, and I was finally able to finish it last night. (Thank you, NetGalley.) This book, which will be released on Tuesday, is not a light, easy read. It deals with some very serious, sensitive issues, and it doesn't sugarcoat anything. Sometimes, I simply had to put the book aside and read something a bit less intense and disturbing. And if this book–which addresses things like date rape, victim-blaming, bullying, etc.–doesn't disturb you on some level, then you're not paying attention.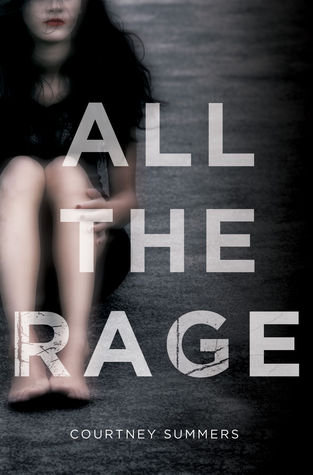 Romy Grey is the town pariah–and it's not just because she's the daughter of the town drunk. She receives dirty looks from nearly everyone, people talk about her behind her back (and to her face), she's bullied incessantly, and she can't rely on anyone to truly have her back. Why? Well, not so long ago, Romy was raped…by the sheriff's son, a golden boy who everyone believed could do no wrong.
After Romy came forward with what happened, it became crystal clear that no one would ever take her seriously. People blamed her for trying to ruin a "good kid's" reputation and figured she was just a slut from the wrong side of town looking for some attention.
But Romy knows the truth. She still bears the scars of that horrible night. She fears nearly every guy who crosses her path, and she can't trust that this won't happen again. She's dead inside, and she doesn't think she has anyone to lean on. Romy certainly can't depend on her former friends–friends who abandoned her when everything went pear-shaped. No, they're too busy making her life miserable…and they're not the only ones. Some of the adults she should be able to trust fail Romy at every turn.
Romy's only respite is her job at a diner in a neighboring town. No one knows her or her story there. She can blend in and try to have something (or someone) good in her life. But all of that ends when Romy's former best friend, Penny, comes in the diner one night and hints that the guy who violated Romy may have done the same to another girl.
Romy doesn't want to hear what Penny has to say, but this news–and Penny's appearance at the diner–sends Romy's entire world into a tailspin. She seems to go looking for trouble…and she definitely finds it.
As Romy's life spirals out of control, she realizes that she has once again been victimized by those around her. And that's not all. Now, Penny is missing, and, for some reason, people are blaming Romy for Penny not being found. Why? Why are people so eager to point the finger at Romy? What connection does she have to Penny's disappearance?
Facing the comments and looks at school make Romy feel dirty and sick, and that only gets worse when she comes to understand just what happened to her–and Penny–on the night that Penny went missing. Romy wonders if maybe she should be the one in Penny's place. Everyone else seems to think so.
Romy is struggling with everything that is happening. She doesn't feel like she can talk to anyone, and all of this pressure is going to make her self-destruct. And if Romy knows anything, it's this–there's more than one way to kill a girl.
_______________
I don't know how appropriate the title of this book is for the characters, but All the Rage definitely fits my feelings about the book. I raged at everyone who made Romy's life miserable. I raged at a corrupt system that blamed the victim and made her feel totally worthless. I raged at those who bullied this girl so incessantly that she couldn't feel safe anywhere. And, yes, I even raged at Romy for not speaking up, for seemingly trying to ruin the only good things in her life, and for taking what everyone else dished out. I wanted her to fight to be heard, and I wanted the people around her to stand by her, believe her, and fight for this tortured girl.
All the Rage is a gritty, realistic look at something that happens all too often. When young women are sexually assaulted, people wonder what they were wearing, how much they were drinking, or if they were "asking for it." Why aren't we putting the blame where it belongs? On the rapist. If someone–anyone–in power had believed Romy, the entire chain of events that followed could have been avoided…and two girls could have been spared horrible fates.
If I had to say one negative thing about this book as a whole, it would be that the timeline of events could be difficult to follow. I often found myself going back and rereading passages because it wasn't entirely clear if something happened "now" or "then." A little confusing there.
All the Rage is definitely a book for mature readers. (I would not put this book in the hands of a middle school student.) It's raw, dark, and frank. It is not a book to pick up when you're looking for something light and fluffy. This is a book that will make you think, make you reexamine your own attitudes about very important issues, and, most importantly, a book that will make you rage. Be prepared for that.
You can buy All the Rage on April 14th. If you want to learn more about the book in the meantime, check out the author's website. You can also connect with the author via Facebook, Twitter, Instagram, and Tumblr.