I'm amazed that I just got around to reading The DUFF (which came out in September of 2010), especially considering that I've been one for most of my life. (We really can't count those preschool years, right?) I'm not going to go into my "duff" experiences through middle school, high school, college, and even into my adult years, but let's just say that the title of this book alone speaks to me. What's between the covers of the book…well, that's another story.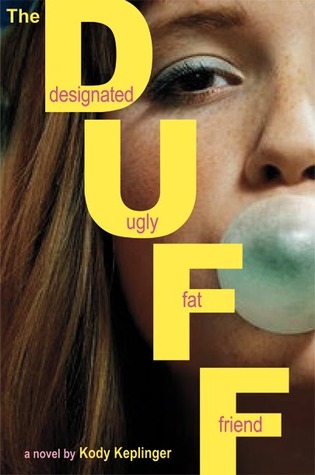 Bianca Piper is fiercely loyal to her two best friends, Casey and Jessica, even when they force her to go to a local dance club with them. Bianca usually just sits at the bar and nurses a Cherry Coke, but on this particular night, she'll engage in a conversation that will change how she views herself, her friends, and how the entire world looks at her.
When the vile, loathsome–and totally hot–Wesley Rush starts talking to her at the club, Bianca's pretty sure there's been some sort of mistake. She makes it pretty clear that she hates Wesley, so why is he chatting her up? Well, the answer is rather simple. He's trying to hook up with one of Bianca's friends, and he thinks that paying attention to the "duff"–designated ugly fat friend–of the group will win him some points. Bianca, of course, is livid at this description, so she throws her Cherry Coke in Wesley's face. (Quite right, too!)
But the more Bianca thinks about Wesley's description of her, the more she thinks…he may be right.
Being branded as a "duff," though, is not the worst thing going on in Bianca's life right now. Her mom is never around, her dad is a mess, and her ex-boyfriend (who completely crushed her heart) is coming back into town. So what does Bianca do to distract herself from her problems? She lays a big kiss on her nemesis, none other than Wesley Rush.
Well, the kiss with Wesley probably wouldn't have been a huge deal…if she had stopped there. No, instead Bianca continues to escape her problems in Wesley's arms, and she's soon avoiding even the good things in her life to spend more time with Wesley (who has issues of his own that he's trying to escape). Bianca still officially hates Wesley (who continues to refer to her as "Duffy"), but it's getting harder and harder to convince herself of that, especially when he's there for her during the most difficult situation she's ever encountered.
So how can Bianca reconcile her growing feelings for someone she swears she hates? Does Wesley have feelings for her even though she's supposedly a "duff?" Do these two kids have a shot at a real relationship, or will their various issues drive them apart? I'll leave that for you to find out…
_______________
So…first of all, let me say that I love Bianca's voice in this book. She's cynical, sarcastic, moody, and she doesn't pull any punches. At the same time, she's vulnerable and struggling with her parents' crumbling marriage. Even when she's being surly and self-destructive, Bianca is a sympathetic character. And even though I don't particularly like how Bianca distracted herself from her problems, I can see where she's coming from. Her mom escapes through traveling, her dad escapes into a bottle, and both Bianca and Wesley escape into each other. (I escape into books, Netflix, and food…which may go a long way in explaining why I still see myself as a "duff.")
For those of you thinking of giving The DUFF a read, let me go ahead and tell you that the book doesn't shy away from sex. Bianca and Wesley get pretty hot and heavy, and that definitely comes through in the book. Even when Bianca hates herself for turning to Wesley, she enjoys sex with him. (Why else would she keep doing it?) And I may get angry messages for saying this–especially here in the Bible Belt–but I think it's important for teen readers to see examples of enjoyable sex lives in the books they read. I can't think of many YA novels that make it a point to say that characters–particularly female characters–have positive, even fun, sexual experiences. Something to think about there.
So…given all of that, I would recommend The DUFF to teenage readers (probably age sixteen and up)* who like books with totally relatable characters, sexy times, and a rather happy–if somewhat unrealistic–ending. It's also a great book for readers who sometimes struggle with their self-perception. (That didn't narrow things down, did it?) All of us have thought of ourselves as ugly, fat, or some other negative adjective. Are we all "duffs" at one point or another? Maybe. But, as Bianca discovers, other people don't get to decide who and what we are. Our identities are up to us.
*This is NOT a book for middle grade readers. Aside from the sexual situations, there's also quite a bit of language and some other themes that may be more suited to mature readers.*
There's another book set in the world of The DUFF coming out tomorrow! Lying Out Loud features Wesley's sister Amy and includes cameos from the characters we've come to know and love. I, for one, look forward to seeing how Bianca and Wesley are faring.
For more information on The DUFF and other books by Kody Keplinger, check out the author on her website, Twitter, Tumblr, Facebook, Instagram, Goodreads, and YouTube.
**I know there was a movie adaptation of The DUFF released a couple of months ago, but I didn't see it. From my understanding, quite a few liberties were taken with the plot, so I doubt I'll see it now. If I'm wrong on that, please let me know, and I'll give the movie a try.**