Two days ago, Shadowhunter fans were graced with yet another Tales from the Shadowhunter Academy story from Cassandra Clare and Sarah Rees Brennan. In case you're not caught up, the first three stories are Welcome to Shadowhunter Academy, The Lost Herondale, and The Whitechapel Fiend. Get to reading, my friends!
For those who are still with me, the fourth tale, Nothing but Shadows, continues Simon's journey through the Academy and gives readers a look at the relationship between James Herondale and Matthew Fairchild.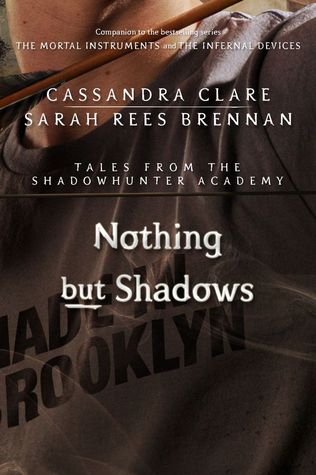 As Simon Lewis navigates the rather gloomy halls of the Shadowhunter Academy, he's learning more and more about those who came before him. It seems he's not the only one to question the absolute certainty that Shadowhunters–especially those born to the life–are superior to everyone else.
Many years ago, two very different young men also questioned things…and, even though they had a rocky start, they eventually formed a virtually unbreakable bond. These two Academy students were James Herondale (son of Will and Tessa) and Matthew Fairchild (son of Henry and Charlotte).
James, a rather serious boy, really just wants to make a friend, but he's shy, unsure of himself, and often prefers the company of his books. Matthew, on the other hand, seems to be James' exact opposite. Matthew is popular, witty, outlandish, and, no matter what shenanigans he pulls, everyone is charmed by him. Everyone except James.
When a shocking truth is revealed about James, his heritage, and his abilities, he retreats even further from his fellow students. He's now a total pariah, and he thinks that no one will ever want to befriend him now. As it turns out, he's as wrong about that as he is about what really drives Matthew Fairchild. When James learns just why Matthew behaves the way he does, he finds himself as drawn to this charismatic boy as everyone else.
James and Matthew eventually form a strong friendship, and, when James' future at the Academy is called into question, Matthew is right there by his side. He doesn't care that James has some odd abilities passed on from his mother. He doesn't care that others are afraid of James. Matthew sees James as a friend, a parabatai…and a way home to his father.
When Simon discovers what James and Matthew experienced during their time at the Shadowhunter Academy and beyond, how will that color his own experiences (and his slowly returning memories)? Is there someone at the Academy–or perhaps back home–who Simon would ask to be his own parabatai? Is Simon, the former Daylighter, finally coming to terms with his own murky past by learning about the complicated history of the Shadowhunters? Stay tuned to find out…
_______________
As most of you likely know, I adore all things Shadowhunter (except for the crappy movie adaptation of City of Bones *shudder*). Going into this story, I didn't think it was possible to love any characters more than Magnus Bane and the casts of The Mortal Instruments and The Infernal Devices. Well, I may have been wrong. (It's too soon to tell.)
Granted, the glimpses I got of Will and Jem in Nothing but Shadows were amazing, but James and Matthew were definitely the shining stars (as they should have been), and I can't wait to see more of them. James spoke to the shy bookworm in me, and Matthew was just too outrageous not to like. Their journey to friendship, though not without its bumps along the way, was a joy to witness, and I look forward to seeing how their parabatai bond changes how they view each other and the world around them.
I'm not sure James and Matthew will be shown in any other Tales from the Shadowhunter Academy stories, but I know we'll see them again in Chain of Gold, the first book of The Last Hours (due sometime in 2017). A sixteen-year-old James Herondale is featured in the fourth book of The Bane Chronicles, The Midnight Heir, if you want to see him a few years after the events of Nothing but Shadows. What happened in those few years? At this point, I can only begin to speculate…
The next story in Tales from the Shadowhunter Academy is The Evil We Love, and it will be out on June 16th. This story will tell readers about Valentine's Circle and their time at the Academy. I am giddy* with anticipation.
*Not really. I don't think anyone has ever used the word "giddy" to describe me. I'm way too reserved for that. At most, I'm simply eager to read the next story in this collection. Do with that what you will.