It's not often that I struggle to get through a book, but that's just what happened with my latest read, OCD Love Story by Corey Ann Haydu. It took me a month to finish this one. (I did read other things while working on this book, but still. A month with a book is a little ridiculous for me.)
When I first picked up OCD Love Story, I was expecting a somewhat lighthearted love story. Well, that will teach me to judge a book by the big, pink heart on the cover. I guess I should have paid more attention to the words that repeat around the heart: "I will not stalk that boy." Yeah, those words give a much clearer indication of what the reader is getting in this particular book. Although there are moments of humor, OCD Love Story is essentially about a girl struggling with OCD and trying to reconcile her compulsions with the relationships in her life.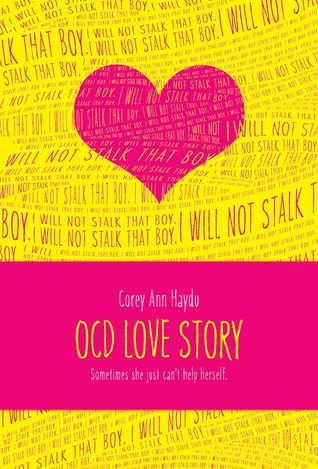 Bea meets Beck during a blackout at a school dance. Even though she can't see him, somehow she knows they have a connection. She's right about that.
The next time Bea encounters Beck, it's in a group therapy session for teens with OCD (Obsessive Compulsive Disorder). Bea is certain neither she nor Beck really belong here. Sure, Beck has some quirks he needs to work on, and Bea has her own issues to deal with, but they're the normal ones in the group, right?
As Bea learns more about Beck's problems and comes to terms with her own, she eventually realizes that they are as far from "normal" as they can be.
Beck has an obsessive need to be clean, he repeats actions eight times, and he spends most of his free time working out. Bea worries about him, but she's got plenty to deal with on her own.
Bea can't control her thoughts about a couple she saw at her therapist's office. She documents what goes on in their sessions (while she listens through the wall), she finds their apartment, she drives miles out of her way (which is its own brand of torture for Bea) just to make sure she knows they're safe. And if that weren't enough, Bea is also starting to worry that she's capable of violence. She obsesses over articles about girls who suddenly snap, and she keeps a wary eye out for sharp objects.
Bea is unraveling, and it won't be long before her obsessions and compulsions take over every aspect of her life. She is firmly in the grips of OCD, and this disorder could ruin not only her relationship with Beck but also her most valuable friendship and her own view of herself.
Will Bea be able to confront her demons before she loses everything, including the one guy who may actually understand her? Read OCD Love Story by Corey Ann Haydu to find out.
_______________
I don't want to say that I didn't like OCD Love Story. I did, but it wasn't the type of book that I just had to read in one sitting (hence the month I spent with it). Oftentimes, I had to put it down because Bea was making me anxious. I don't have OCD, but I do deal with anxiety, and, as Bea and Beck got deeper and deeper into their compulsions, I got more and more tense. That is a likely scenario for most who read this book, but it felt amplified in my case.
I do think OCD Love Story is a very real look at people, particularly teens, who live with OCD. Sometimes things are okay, but other times the obsessions and compulsions are so strong that they take over every aspect of a person's life. And as hard as it is for loved ones to deal with what's going on, it's even more difficult for the person suffering.
One thing I would have liked to see in this book is a list of resources or further reading for those interested in learning more about OCD. There are still a lot of misconceptions about this disorder, and education is key to understanding just what those who have OCD deal with every day.
I would recommend this book for libraries that serve older teenagers. I think some of the material may be too mature for younger teens, so I don't think I would place this book in a middle school library. Just my two cents.
To learn more about OCD Love Story and other books by Corey Ann Haydu, you can connect with the author on Goodreads and Twitter.