Before I get to my latest read, indulge me for a bit. Today marks Knight Reader's 7th Blogoversary, and I'd like to thank everyone who's taken the time to visit my little blog over the years. When I think about hanging it all up (which is about every two days), you guys are the ones who keep Knight Reader alive. I couldn't do it without you, and I hope you'll continue to stick with me.
Now, on with the show…
A couple of days ago, I finished another great read by Jennifer E. Smith. I'd previously read and enjoyed three of her other books–The Statistical Probability of Love at First Sight, The Comeback Season, and This Is What Happy Looks Like–so I figured that The Geography of You and Me would be no different. I'm happy to report that I was right (as usual).
Like Smith's other books, The Geography of You and Me tells the tale of an unlikely pair. These two young people are thrown together by chance, fate, whatever you want to call it, and that one event ultimately changes everything…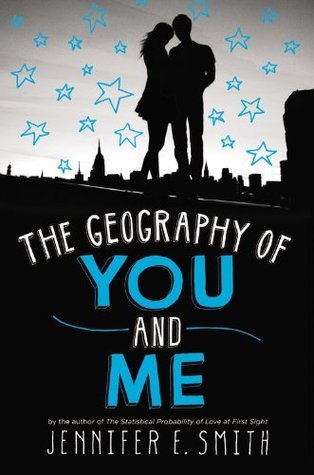 It should have been a routine trip on an elevator. Lucy was going up to her apartment after checking the mail. Owen was headed to the roof to escape the chaos of New York City. But a citywide blackout changes everything. Now, Lucy and Owen are stuck together, and they're getting to know each other when they'd barely registered the other's existence previously.
After they're rescued–and it becomes apparent that the power isn't returning to the city anytime soon–Lucy and Owen decide to spend the long evening ahead exploring the city around them and looking at the stars above. They tell each other things they never revealed to anyone else. Owen talks about moving to New York after the death of his mother, and how he and his father are still floundering. Lucy tells Owen how it feels to be left behind when her parents travel abroad. Both young people are lonely, and, unexpectedly, they find kindred spirits in each other.
When the blackout ends, however, it's a little more difficult to keep their connection alive, especially when Owen is headed west with his father, and Lucy is moving to Europe with her parents.
Lucy and Owen communicate through postcards and sporadic emails, but they're also continuing to live their lives. Lucy finds a boyfriend when her family settles in Edinburgh, and Owen begins a relationship with a girl he meets in Lake Tahoe. Through it all, though, Lucy and Owen continue to think about each other and wonder how the other is doing. And when their other relationships go south, Lucy and Owen return to the connection they formed in the dark of New York City.
Eventually, Lucy and Owen come back to each other in the place where it all began. In the year since the blackout that started their relationship, they've each traveled hundreds of miles, met new people, and learned more about themselves and their places in the world. Are they even the same people as when they first met? Has too much changed in the past year?
Can two people from such different worlds overcome the miles between them and form a real and lasting relationship? Is geography even a consideration when two people really want to be together? I'll leave that for you to discover yourself…
_______________
I'd recommend The Geography of You and Me to readers who are looking for a quick, sweet read that explores the complexities of first love and long-distance relationships. It's also great for those who have a bit of wanderlust and want to experience more of the world around them. (FYI, that is not me. I'm a bit of a homebody. If I want to go somewhere, I'll just open the pages of a book. BOOM. Instant vacation.)
The Geography of You and Me is a good selection for readers in middle grades on up. Yes, it is a teen romance, but there's no graphic imagery, and the language isn't terribly shocking. Everything is true to the story. (As usual, read the book for yourself before adding it to your school or classroom library. You know better what fits in your collections than I do.)
If you'd like more information on this book or others by Jennifer E. Smith, check out the author's website and Twitter. I, for one, look forward to reading her latest, Happy Again, an ebook novella that continues This Is What Happy Looks Like. I'm also excited about her next novel, Hello, Goodbye, and Everything In Between, which comes out on September 1st.
Happy reading, everyone!