To All the Boys I've Loved Before has been on my radar for a few months, and I finally made time to read it this week. (I actually devoured it in less than 24 hours.) This wonderful book by Jenny Han introduces readers to Lara Jean Song Covey, a somewhat fanciful sixteen-year-old girl who gets over her crushes by writing them letters. She writes the letters and then moves on with her life. But when the letters actually get sent, Lara Jean's life gets kind of complicated…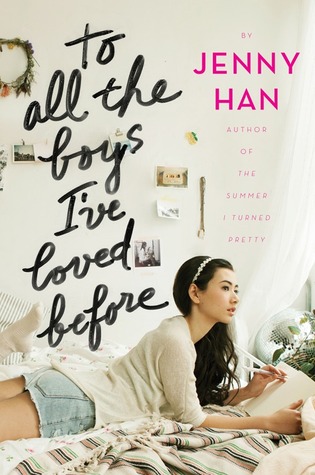 Lara Jean is a devoted sister, a loyal friend, and a reliable daughter. She's not much of a rule-breaker, she doesn't go to many parties, and she's kind of invisible at school…and she mostly likes it that way.
Lara Jean does have some secrets, though–secrets those closest to her know nothing about. Lara Jean has had five crushes in her life. In order to move past these crushes, she writes each boy a letter, addresses it, and places it in an old hat box under her bed. No one knows about these letters except Lara Jean, and she has no intention of every mailing the letters…especially since one of them is written to her sister's ex-boyfriend, Josh.
One day, Lara Jean realizes that the hat box under her bed is missing, and the letters she's written to her crushes have actually been mailed out. When she understands what's happened, Lara Jean panics and worries about what all of this could mean for her. A couple of her former crushes are no longer around, so she's not terribly concerned about them…but some of them confront her about what she wrote, and that's where things get a little messy.
In order to save face around Josh, Lara Jean devises a plan to make him think that she's totally over whatever feelings she may have once had for him. She conspires with Peter, also one of her former crushes, to make everyone think that they're now together. It's a win-win situation, really. Lara Jean can avoid a big confrontation with Josh, and Peter can make his ex-girlfriend jealous. What neither Lara Jean nor Peter count on, however, is how this fake relationship will affect both themselves and those around them.
Lara Jean is growing closer to Peter, and she's beginning to wonder if maybe he has some feelings for her. What started as a fake relationship may quickly be evolving into something real. Does Peter actually care about her, or is he still just using her to make his ex jealous? Does Peter, who knows the whole story of the letters, believe she still has feelings for Josh? How does Margot, Lara Jean's beloved older sister and Josh's ex-girlfriend, figure into this mix?
Lara Jean will soon have to face the realities of all of her relationships–those with Peter, Josh, and her sisters. What will she do once everyone knows the truth? We'll just have to see…
_______________
I found To All the Boys I've Loved Before to be a fast, fun read that definitely gripped me and wouldn't let go. Even though I thought Lara Jean's voice was a tad grating at times, I felt that her character was realistic. It's a nice change from all of the rule-breaking party girls in a lot of contemporary YA. Teens who respect their parents, like to stay in at night, and follow rules need to see themselves in fictional characters, too, and I was happy to see such a character in this story…even though she did play fast and loose with the truth from time to time. (Even us good girls can relate to that, though.)
I do have to admit that the end of this book nearly sent me into a panic. I kept glancing at the page count at the bottom of my ereader and wondering how in the world I was going to get a happy ending with so few pages remaining. And, while the ending was somewhat satisfying, it did leave things kind of open…which makes sense when one realizes there's already a sequel.
The next book featuring Lara Jean and company, P.S. I Still Love You, is already out, and it is near the top of my lengthy TBR list. I can hardly wait to see what happens with Lara Jean and Peter.
For those wondering if To All the Boys I've Loved Before would be a good fit for middle school library collections, I'd have to say that it may be okay for upper middle school. There is some language, alcohol use, and talk of sexual situations, but there is nothing terribly graphic. In truth, Lara Jean could actually serve as something of a role model for some readers. She sees a lot of this stuff going on around her, and while she does feel some pressure to fit in, she remains true to herself and her values. Do with that what you will.
If you think To All the Boys I've Loved Before sounds like the book for you, I encourage you to learn more about in on Goodreads or the author's website. You can also connect with Jenny Han through Twitter, Instagram, and Facebook. Enjoy!