Yesterday, I finished reading Never Always Sometimes by Adi Alsaid. (You may recognize the name from his previous book, Let's Get Lost.) Anyway, this latest book, which comes out next Tuesday, is sort of a coming of age story that John Green fans will probably eat up. In fact, at various points, this book reminded me a bit of Paper Towns. If you're a Nerdfighter, that's probably all the recommendation you need.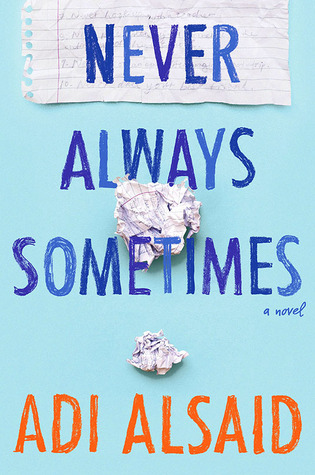 In Never Always Sometimes, readers are introduced to Dave and Julia, best friends who have done their best to avoid becoming high school clichés. Before they even darkened the doors of high school, Dave and Julia made a Nevers List, a list of things they vowed never to do during their time in high school. Some of the items were:
#2 – Never run for prom king/queen, student body president, or any other position that would have its own page in the yearbook.
#5 – Never dye your hair a color found in the rainbow.
#8 – Never pine silently after someone for the entirety of high school.
#10 – Never date your best friend.
Now, almost four years later, just months before graduation, Dave and Julia have done a fairly good job of sticking to their Nevers List. Or so it seems.
Dave, for his part, has been in love with Julia for what seems like forever–breaking Never #8–but he keeps his feelings a secret so that he won't ruin his relationship with his best friend.
One day, thinking she and Dave are missing out on the authentic high school experience, Julia suggests that they use the time before graduation to cross off every Never on their list. As is usually the case, Dave goes along with Julia's crazy idea, and pretty soon, the two are dying their hair (and Dave is shaving his shortly thereafter), stalking a teacher, running a campaign for prom king, going to wild parties, and doing all the other things they've been disdainful of all this time.
Through all of this, Dave starts to realize that maybe he really has been missing out. This typical teenage stuff isn't so bad, and it's even pushing him to be social with people–girls–other than Julia. One girl in particular, Gretchen, catches his eye, and Dave begins to think that, as much as he still loves Julia, maybe he should let that hopeless crush go and move on.
What Dave doesn't know (yet) is that Julia is coming to her own realizations. Maybe she too wants something more from her best friend, the guy who knows her better than anyone else. Maybe they should finally cross of Never #10 and see what happens. What could possibly go wrong?
_______________
How do I feel about Never Always Sometimes now that I've finished it and reflected a bit? Well, I'm still not sure. I think it's a good book, maybe a tad unrealistic, but I kind of wanted to punch the main characters in the face several times when I was reading. Especially Julia. (I guess it's good that I got so emotionally invested.) She seemed so self-centered to me throughout most of the book, and she tended to drag Dave down with her. Granted, he went–if somewhat unwillingly–most of the time, but I wanted both of them to wake up and see just how codependent they were.
As for the ending of the book, it took some doing, but it was sort of satisfying. I wouldn't exactly call it happy, but given the events that preceded it, it really couldn't be a totally happy ending for everyone. If anything, I would say that it was fitting and leave it at that.
For those wondering if Never Always Sometimes is suitable for middle grade readers, I would advise against it. It's great for a YA audience, but the "sexy times" and rather unrepentant alcohol use and rule-breaking make the book much more suited to older teens. Whatever the reader's age, I'd hope that all of them would have sense enough to know that some of the items on the Nevers List–like "never hook up with a teacher"–should remain Nevers.
As I said previously, Never Always Sometimes will be released to the masses on August 4th. (Many thanks to NetGalley for letting me read it a bit early.) If you're interested in learning more about this book and author Adi Alsaid, you can connect with the author on Goodreads and Twitter. You may also want to take a look at the book trailer below. It's a pretty good intro to Never Always Sometimes, but it doesn't give too much away.
Happy reading!