Let us all do the Dance of Joy! I've finally finished the last of this year's South Carolina Children's Book Award nominees! I'm pleased as punch that I can finally return to the books that I actually want to read…not that most of the SCCBA nominees weren't great. I enjoyed most of them, but some weren't books that I would've chosen to read. And I guess that's one of the great things about the Book Award program.
Anyhoo, my last SCCBA nominee is probably the weirdest of the bunch. (I say that with love.) The True Blue Scouts of Sugar Man Swamp is unlike any book I've ever read. It has a crazy cast of characters, including two raccoons, a very large snake named Gertrude, feral hogs, an alligator wrestler, a con-artist, a pie-maker and her son, and, of course, the Sugar Man, cousin of Sasquatch and guardian of the swamp. Like I said…weird. But weird is good, at least in my book.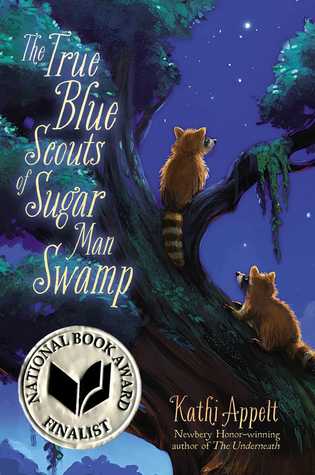 Bingo and J'miah, raccoon brothers, are the newest Official Sugar Man Swamp Scouts. They gather information vital to the survival of the swamp, and, should they ever need to, they wake the Sugar Man if the swamp is in danger. Pretty soon, they'll have to do just that. A band of nasty, vile, feral hogs are on their way to the Sugar Man Swamp, and they're sure to destroy anything in their path. Our loyal, beloved Scouts simply can't let that happen. They must find a way to wake the Sugar Man, who has been sleeping for over sixty years.
While Bingo and J'miah are working for–and trying to wake–the Sugar Man, a twelve-year-old boy named Chap is doing his own part to protect the swamp where he lives. An awful man, Sonny Boy Beaucoup, wants to pave over the swamp and create an alligator wrestling theme park. In the process, he'd force Chap and his mom out of their pie-making business and the only home they've ever known, not to mention all of the plants and animals that would be destroyed. Chap just can't let that happen, and he's willing to do whatever it takes to keep his home…even if that means coming face-to-face with the Sugar Man himself.
As hogs are coming from one direction and theme park developers come from another, Chap and the Scouts of Sugar Man Swamp are both working to save their homes. They'll have to be both creative and relentless in their quests to protect the swamp.
Will the raccoons wake the Sugar Man in time to beat back the horrible hogs? Will Chap find some way to convince Sonny Boy to abandon his theme park schemes?
Trouble is surely coming for this precious swamp, and only one thing can really set things right. It's time for the Sugar Man to wake up!
_______________
Now, some of you might be asking why I'm posting on a book like this, one featuring talking swamp creatures, here. After all, this blog typically focuses on middle grade and YA fiction. Well, I have to say that this particular book has something for everyone. Yes, younger readers will like the precocious animal characters, but, in my most humble opinion, the humor in this book is geared more to older readers, even adults in some cases. There's a reason this book was a National Book Award finalist.
The narrator of The True Blue Scouts of Sugar Man Swamp is what really sets this book apart. I got the sense that the narrator was speaking directly to me (and my fellow readers), and he/she (in my head, it was a feisty, Southern woman) made the book come alive. I don't quite know how to explain this particular aspect of the book any better. It's something you have to experience for yourself.
This book also featured some fairly complex vocabulary. That could deter some younger readers–and some older readers–from picking up or finishing the book, but I would encourage them to persevere. The challenge is worth it, and they'll expand their vocabularies in the process. It's a win-win!
If you're at all intrigued by The True Blue Scouts of Sugar Man Swamp, I urge you to learn a bit more on the author's website. Her site includes a book description, a short video, and activity pages that go along with this excellent book. (I plan to use some of the activities with my students very soon.)
_______________
Now, my dear friends, it's time for me to bid you adieu. I'm headed to Myrtle Beach for a few days, so I will be incommunicado for a while. Hopefully, I'll be able to finish a few books during my much-needed vacation, and I'll share those with you as soon as I return to real life. Happy reading!