Another Day is a companion novel to Every Day by David Levithan. I strongly recommend you read Every Day first. Is it absolutely essential? Well, no…but it will help to alleviate a bit of confusion if you read A's story first. (There will still be some confusion, but that's to be expected with books like these. If you don't already, you'll soon realize what I mean.)
Two years ago, I read Every Day by the wonderful David Levithan. I admit that I wasn't totally sold on the book at first. The more I thought about it, though, the more intrigued I became. So when I got the opportunity to read the long-awaited companion novel, Another Day, via NetGalley, I jumped on it. Well, as it so often does, life interfered with my reading plans, and I wasn't able to finish Another Day as quickly as I would have liked. (I wanted to read it before its release on August 25th, but I didn't quite make it.) Anyway, I finally finished the book last night, and I think I liked it even more than I did the first book. It may have had something to do with the protagonist being a little more relatable. I don't know, but I'm hoping another book in this series will help me–and the characters–figure things out.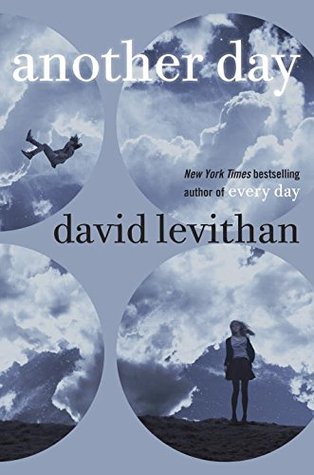 For Rhiannon, each day is basically just like every other. She deals with her parents (who seem to be totally checked out), she goes to school, and she tries to figure out what kind of mood her boyfriend Justin is in. Sometimes he notices and seems to appreciate her presence; at other times, he's distant, moody, and even mean. She never really knows what she's going to get with him, but it's never what she wants.
One day, though, Rhiannon notices a change in Justin. He's nice to her. He's attentive. He wants to spend the day with her. Has he turned a corner and realized just what she means to him? It certainly seems so when he suggests they skip school and spend the entire day at the beach. They really talk to each other for the first time, and Rhiannon feels like she's seeing a whole new Justin, a Justin who is the boyfriend she's always hoped for. Unfortunately for Rhiannon, this perfect day cannot last…
When Rhiannon encounters Justin the next day, he's distant once more and doesn't remember much about their day at the beach. Rhiannon isn't sure what's going on, but she knows it's something big. She just doesn't realize how big or how this something is going to change her life, her relationships, and how she perceives the world as a whole.
On that one perfect day, Justin wasn't really Justin. He was A, a boy (?) who inhabits a new body each day. Every day, A is someone different, and when Rhiannon is confronted with the reality of what's happening, she's confused, disbelieving…and enthralled with this being who goes to great lengths to be with her when her own boyfriend barely notices her.
As A and Rhiannon grow closer, Rhiannon is torn by the double life she's leading. Part of her still loves Justin, but another part realizes that A is the one who truly loves and sees her. How can she reconcile these two existences? Should she stay with Justin because he's always the same, or should she take a risk on a very uncertain future with A? Can she cope with the fact that she never knows what A will look like–or even what gender he will be–from day to day?
Very soon, both Rhiannon and A will have to make some difficult choices. Will they try to work things out despite the obstacles? Or will they go back to the lives they knew before? Is that even possible now?
Read Another Day to learn how a seemingly impossible situation opens one girl's eyes to the truth about love, perception, and relationships worth keeping at all costs.
_______________
Another Day takes a close look at a girl in a bad relationship. No, Justin never hit Rhiannon or anything like that, but he chipped at her self-esteem and made her feel like she had to walk on eggshells all the time. I imagine that quite a few teens (and adults) will relate to this experience. Maybe Rhiannon's relationships with both Justin and A will help some people to realize that there's more out there. They don't have to stay with a person who treats them badly. "At least he doesn't hit me" is no reason to keep someone around. Good guys (and girls) are out there…but even being alone is better than being with someone who's bad for you. (I'm personally a big fan of being alone…but that's just me.)
I don't know what else I can say about this book. I enjoyed it. I think it was better than Every Day. (I do admit that it's been two years since I read the first book. I might feel differently if I reread it.) The series as a whole is rather different from most other stuff out there, and I really hope that there's another book coming out in the future. (I have reason to hope that there will be.)
If you're intrigued by the premise of both Every Day and Another Day (and the prequel novella Six Earlier Days), you can learn more at author David Levithan's website. Enjoy!