My favorite historical period (in America, at least) is the Roaring Twenties. I also enjoy reading books about people with supernatural abilities. Well, my latest read combined those two things in an amazing story that I'm still thinking about.
This book, The Diviners by Libba Bray, was a lengthy tome, and I couldn't read it much at night because I'm a wuss, so it took me longer than I would have liked to finish. That being said, I adored this book, and I look forward to reading the second book, Lair of Dreams, which came out last month. I'm fairly certain it will give me the same case of heebie-jeebies that I got while reading the first book.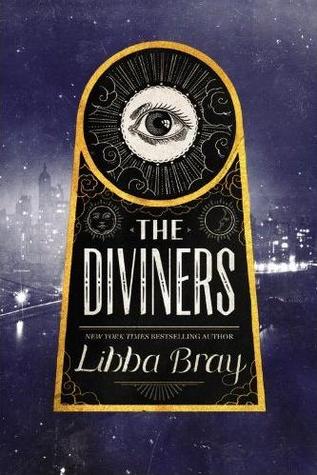 Evie O'Neill doesn't quite fit in her boring Ohio hometown…and everyone knows it. When scandal erupts–a scandal that Evie had a part in revealing–she is sent to live with her uncle in Manhattan, and Evie couldn't be happier. She knows she'll find the life she's always wanted in the Big Apple, and she's ready to take the city by storm.
As Evie explores the speakeasies, parties, and good times that are so much a part of New York in the 20's, she's also being introduced to her Uncle Will's work in the Museum of American Folklore, Superstition, and the Occult. Uncle Will is soon called to assist with a strange murder investigation, and Evie finds herself right in the middle of it.
You see, Evie has a special ability that helps her to know much more about these gruesome murders than she should…and this ability may just make Evie a target herself. Evie is quickly caught up in an investigation that leads her to learn more about a dangerous cult, ritualistic killings, ghosts come back to life, and someone's quest to bring about the end of the world.
How can one girl hope to stop such horrible events? Evie will have to use all of her considerable wits to combat the evil to come, but it still may not be enough. She's on a collision course with a vicious killer, and her charms and abilities may not get her out of this mess.
And Evie is not the only person with abilities that put her in a killer's cross-hairs. Theta, a chorus girl with a tragic past, has her own dangerous secret. Memphis once had sought-after healing abilities that left him after his mother's death. His brother, Isaiah, is showing signs of his own special–and disturbing–gifts. Then there's Sam, a pickpocket who has the handy ability of going completely unnoticed when he wishes to. And let's not forget Jericho, a student of Evie's uncle, and a young man who isn't completely what he seems.
All of these people will, on some level, come face-to-face with the horrendous evil that is waking in New York, and each of them will have to do what they can to protect themselves and those they love. Will they be able to stop what's coming before it's too late? Or will one of them be a murderer's next victim?
Answer these questions and many more* when you read The Diviners by the fantastic Libba Bray.
*Warning: For every answer you receive, about a thousand questions will pop up in its place. It's kind of awesome.
_______________
To say that I like The Diviners would be a major understatement. This book was rich, terrifying, entertaining, complex, and filled with characters that I want to know more about. (If you're familiar with Libba Bray's other books, this is probably not news.) Luckily, The Diviners is only the first book. Lair of Dreams was released on August 25th, and there are rumored to be two more books in this captivating series.
In my most humble opinion, The Diviners a series more suited to teen readers, but some mature middle grade readers may be able to handle it. There's a certain amount of rule-breaking and alcohol use–completely true to the historical period–that might keep it from being a must-purchase for libraries that serve middle grade students. (For instance, I definitely wouldn't put this book in the hands of sixth or seventh grader.) I simply think mature teen readers will be able to read this book and keep social and historical context in mind. That's all, really.
If you like your historical fiction with a supernatural twist (or vice versa), I'd highly recommend The Diviners. To learn more about the series as a whole, I urge you to visit the series website. There's loads of information on The Diviners, Lair of Dreams, and the amazing Libba Bray.