This next statement may shock some of you. Until a few days ago, I had never read a Sarah Dessen book. I know, I know. It's a true scandal for someone who loves YA literature as much as I do. The good news is that I have remedied that situation, and I'm now prepared to read everything that Dessen has ever written. Her newest book, Saint Anything, is outstanding, and if her other books are in any way comparable, I'm already hooked.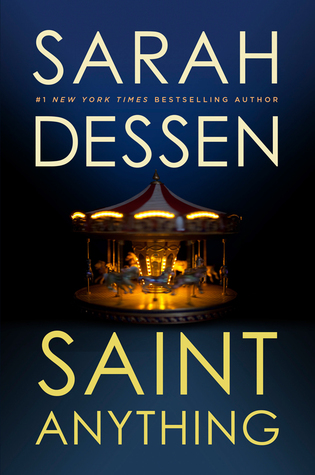 In Saint Anything, we meet Sydney, a girl dealing with the fallout of her brother Peyton's mistakes. Several months ago, Peyton, after claiming that he was finally going to get his act together, had a few drinks at a party and proceeded to get behind the wheel of a car. On his way home, Peyton hit a kid named David Ibarra, paralyzing him for life.
Now, Peyton is in prison, and Sydney is left to deal with her guilt and shame over her brother's actions. And with all of her parents' focus on Peyton and his issues, Sydney wonders if they really see her. Even her decision to transfer to public school doesn't seem to faze them. (They don't appear to realize that Sydney's decision was based partly on the financial burdens created by Peyton's actions.) She's invisible in her own home.
At first, Sydney feels invisible at her new school as well, but that changes rather quickly. When Sydney encounters the Chatham family, she feels like she's finally seen.
The Chathams are a close-knit family with their own share of issues. The family owns a local pizza parlor, and, almost immediately, they treat Sydney as one of their own. Layla soon becomes Sydney's closest friend. Layla has no luck with guys, but she's always searching for the one who will be true to her. (Also, she has a weird obsession with fries.) Then there's Rosie, a recovering addict who is trying to get her figure skating career back on track. Mr. Chatham runs the pizza parlor and plays in a bluegrass band in his spare time. Mrs. Chatham struggles with multiple sclerosis, but that doesn't stop her from keeping her entire family in line. And then there's Mac…
Mac is Layla's older brother, and Sydney is drawn to his quiet, protective nature. Even though she knows it could damage her friendship with Layla, Sydney can't seem to help growing closer to Mac…and he feels the same way. Sydney finally feels like there's someone who really gets her, and she won't let go of that without a fight.
After an argument with Peyton and discovering Sydney breaking a couple of rules, Sydney's parents finally turn their attention to their daughter. (I say "they," but I really mean "her mother." She leads, and Sydney's dad sort of follows along.) They don't want her to go down the same path that Peyton did, and they seem to think that the Chathams have something to do with what they perceive as changes in their daughter's behavior. (They don't see their own lack of attention as a problem, in my opinion.) They tighten the reins on Sydney, talk about transferring schools, and basically try to keep Sydney away from anything that could be a "bad influence." What they don't realize is that the true danger to their daughter has been right under their noses all along.
Sydney knows her parents are being unreasonable, but she doesn't know how to convince them that a couple of mistakes do not mean she's headed for trouble. She's tired of being punished for Peyton's actions, and she's unwilling to let go of the relationships that have come to mean so much to her. What can she do to make her parents finally see her? Can Sydney reconcile her own feelings about her brother while helping her parents to see her for herself? And how will her closeness with the Chatham family help–or hinder–her efforts? Discover the answers to these questions and many more when you read Saint Anything by Sarah Dessen.
_______________
I adored this book. The characters were wholly relatable, and I honestly felt like the Chathams made me a member of their family as I was reading. I was charmed by that entire family, particularly Layla, Mac, and Mrs. Chatham. This family was a beautiful example of how a family should come together in tough times. That provided a perfect counterpoint to Sydney's own family.
Sydney's parents, blinded by the experiences with their son, were exasperating. At several points during the book, I wanted to reach through the pages and smack Sydney's mom. (I'm sure I'm not alone in this.) I know she was dealing with a hard situation the only way she knew how, but it was still frustrating to read, and Sydney's dad didn't really help matters. When he was around, he meekly followed along with whatever his wife wanted, even though it was clear that he often disagreed with her. Neither of them paid enough attention to their daughter…until something happened that forced them to.
Saint Anything, which I think is suitable for both middle grade and teen readers, is a wonderful book about a girl discovering herself and what it truly means to be part of a family. The Chathams provide her with the love and attention she's craved, but they also show her that every family experiences difficulties. Those connections help Sydney cope with what is happening at home. In her own family, Sydney comes to realize that her perceptions, of her brother and her parents, may not always reflect what's really going on.
I hope you enjoy Saint Anything as much as I did. If you'd like to learn more about it and author Sarah Dessen, click here. You may also want to connect with the lovely Ms. Dessen on Facebook, Twitter, Tumblr, Goodreads, and Pinterest.
As for me, I'm now going to add every other Sarah Dessen book to my already staggering TBR pile. Wish me luck!