After the success of nearly every film in the Marvel Cinematic Universe, many people–myself included–have been clamoring for a Black Widow feature film. Sure, she's one of the Avengers, and she played a vital role in Captain America: Winter Soldier, but where's her movie?! Where's the story of Natasha Romanoff?
Well, thanks to the brilliant Margaret Stohl (co-author of the fantastic Beautiful Creatures series), I think we have a pretty amazing basis for a Black Widow film. Black Widow: Forever Red takes a look at what–or who–made Natasha into the kick-butt assassin we know and love. (This was briefly alluded to in Age of Ultron, but this book gives a much more in-depth, gritty peek into Natasha's disturbing past.) Now, though, there are two more people Natasha has to worry about, a girl who shares remarkable similarities to the famed Black Widow and a boy who is somehow connected to both of them.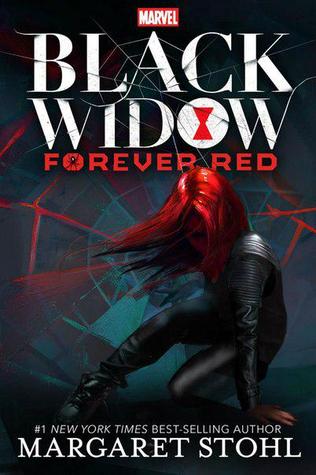 Natasha Romanoff didn't have a typical childhood. Very few other girls know what it was like to be trained by the evil Ivan Somodorov in his infamous Red Room in Moscow. This horrible man taught Natasha how to be lethal, how to lie with conviction, and how to follow orders blindly.
Natasha is not that girl anymore. She's moved on from her life as one of Ivan's girls, and she's done all she can to put things behind her. Unfortunately for Natasha, the past has a way of catching up to her…
Ava Orlova once encountered the woman the world now knows as the Black Widow. After Ava was rescued from the clutches of Ivan Somodorov, Natasha Romanoff promised to look out for Ava. That was the last time Ava saw her. After escaping SHIELD custody, Ava is now on her own, virtually homeless on the streets of Brooklyn. She fences at the Y, sketches the boy who haunts her dreams, and takes care of Sasha Cat, a stray like herself. Like Natasha, though, the past that has always haunted Ava is about to become a very real part of her present…
Alex Manor is a normal kid. He goes to school, he hangs out with friends, and he argues with his mom. Typical stuff, right? So what if he often feels like he's being watched. So what if his instincts completely take over when he fences or fights. So what if he doesn't seem to fit in his own life. Well, Alex will soon realize that "normal" is not a word that should ever be used to describe him. Especially not after he encounters Ava, a girl he's immediately drawn to, and Natasha Romanoff, Black Widow herself.
Natasha, Ava, and Alex come together at a fencing tournament…and nothing is ever the same. Almost immediately, they must escape an enemy threat, unravel a convoluted mystery, and figure out just what they mean to each other. None of them are truly prepared for the answers they find…or the sacrifices they'll have to make to get out of this alive.
_______________
I don't want to give away too much more about this book, so I'm going to wrap this up. I think it's enough to say that this Black Widow fan is ecstatic about this book–which will be released next Tuesday, October 13th–and I hope to see more Black Widow (or Red Widow) novels in the future. (There may have been a spoiler in that last sentence. I guess you'll just have to read the book to find out.)
Many thanks to NetGalley for giving me the opportunity to read this book a little early. I loved everything about it, particularly the awesome female characters (who displayed many different kinds of strength) and appearances from Agent Coulson and Tony Stark. Black Widow: Forever Red whetted my appetite for all things Marvel, so I see a movie and comic book marathon in my immediate future.
If you are a Marvel nerd, I strongly urge you to read Black Widow: Forever Red (which I think is fine for libraries that serve middle grade and teen readers). You will not be disappointed.
If you'd like to learn a bit more about this wonderful book, check out the video below for an interview with author Margaret Stohl.