When I read The Maze Runner series, I immediately became a fan of James Dashner. I fully intended to read the first book in his next YA series, The Eye of Minds (book one of The Mortality Doctrine), the minute it came out. Sadly, though, that didn't quite happen.
Now, it's two years later, and I just finished this first book. The second book, The Rule of Thoughts, is already out, and the third book, The Game of Lives, will be released next month. (There's also a prequel novella, Gunner Skale, that's out.) Well, I may be a bit late to the party, but there is an upside here. No long, agonzing wait for the next book! As soon as I finish a few other reads-in-progress, I can dive right back into the world Dashner created for this Mortality Doctrine series. And let me tell you, it is quite the interesting–and often horrifying–world…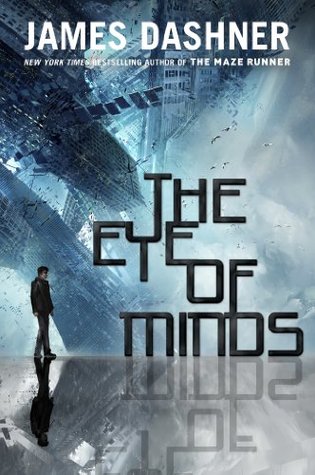 The "real world" holds little appeal for Michael. He is a gamer, and, like many other people around him, he spends the majority of his time in the VirtNet, or the virtual world that offers a totally realistic, immersive experience, especially if one has the hacking skills to get everything he desires. (Michael does.) But for Michael, things in the VirtNet are about to get all too real…
When Michael witnesses a girl committing suicide in the VirtNet–and realizes that she's also killing herself in the real world–he comes to understand that all is not what it seems here. And when the VNS, a government agency, solicits his help in tracking down someone who can only be described as a cyber-killer, Michael must decide if he wants to remain blissfully ignorant or if he's willing to risk his life to find Kaine, the greatest–and most dangerous–gamer the world has ever seen.
Michael soon realizes that he has no choice in the matter. If he doesn't do what the VNS asks of him, everything he knows and loves will be in peril. So Michael enlists the help of his two best (virtual) friends, and the trio goes on a quest to locate–and hopefully stop–the mysterious Kaine.
Even for a group of gifted hackers, though, this experience is like nothing they've ever encountered before. Danger lurks around every corner, and it appears that Kaine is leading them exactly where he wants them to go. At times, they are not hunting Kaine. They are the hunted.
The lines between the real and virtual worlds disappear for Michael and friends the closer they get to Kaine. Will they be able to finish their quest? What will they discover about Kaine in the process? What is his endgame, and why is Michael such an important part of it? Is there any way for Michael and his friends to make it out of this "game" with their minds–and their lives–intact?
Uncover the truth when you read The Eye of Minds by James Dashner.
_______________
I am not a gamer. (It's probably the only non-geeky thing about me.) After reading The Eye of Minds, I will not be gaming anytime soon. It freaked me the crap out. My mind is already a fairly dark place, so I don't need to add to that by immersing myself in a video game….especially one that is controlled by a maniac with his own nefarious agenda.
I think the scariest part of this particular book–and perhaps the entire series–is that I can see it happening in the not-too-distant future. Technology takes over more aspects of our lives daily, so it's not too much of a stretch that it could one day take over our minds…or our bodies. Now, I'm not advocating doing away with all technology. That's absurd. (Also, I'm a school librarian, a webmaster, and a blogger. Technology is kind of my bread and butter most of the time.) I'm just saying that it could be dangerous in some instances, especially when it takes over everything else or is placed in the wrong hands. This book definitely shines a light on that and could lead to some interesting ethical discussions.
For those wondering if this book is okay for middle grade readers, I would say that it is. Like The Maze Runner series, it is scary, action-packed, and will definitely keep readers guessing. The book has its fair share of violence, and some younger readers may not be prepared for just how terrifying things get, so watch out for that. I would say, though, that this book is a great pick for libraries that serve middle grade, YA, and adult readers. There something here for everyone, especially patrons who'd rather play video games than do nearly anything else.
Like I said at the beginning of this post, the second book in the series is already out, and the third will be out on November 17th. I'm hoping to get to both of them very soon. (Thanks to NetGalley, I don't even have to wait until next month to read The Game of Lives. It's on my Kindle right now!) I'll be back with my thoughts on both of those books as soon as I get around to reading them.
Until then…check out more on The Mortality Doctrine on the Dashner Army website. You can also connect with the author via Twitter, Facebook, and Instagram. You may also want to take a look at the video below for a teaser trailer for The Eye of Minds. Enjoy.