Caution: Read The Diviners by Libba Bray before proceeding. There may be spoilers ahead!
Last month, I finally made time to read the first book in a thrilling, terrifying series. That series, of course, began with The Diviners. Yesterday, I finished reading the second book in the series, Lair of Dreams. Well, if The Diviners scared me, Lair of Dreams terrified me to the depths of my soul. Thanks to the fabulous Libba Bray, I can now add dreaming to the long list of things that scare me. (If you're curious, that list includes–but is not limited to–clowns, balloons, thunderstorms, zombies, most forms of social interaction, the dark, and failure. Yes, I'm aware I have issues.)
Moving on…
Lair of Dreams picks up where The Diviners left off. Let's dive in, shall we?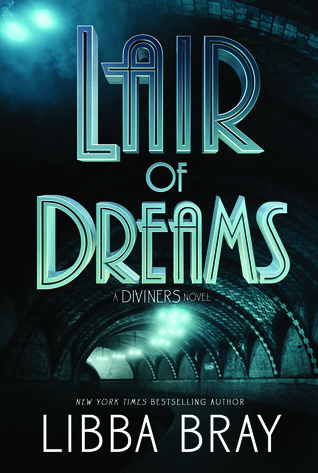 After the horrendous battle against Naughty John, the whole world knows of the existence of Diviners, and Evie O'Neill is determined to be the most famous of them all. She is now the "Sweetheart Seer," and she performs her object readings on a very popular radio show. Evie is a media darling, and she'll do almost anything to keep it that way…even aligning with her nemesis, Sam Lloyd.
As for Sam, he has own agenda, and he needs Evie's help to finally discover what really happened to his mother. He knows she's still out there somewhere, but he's having no luck in uncovering the truth behind "Project Buffalo," the shady government project that may have something to do with locating (or even creating?) Diviners. Sam knows his mother was involved in the project, but he doesn't know how…or why. He's hoping that Evie's object-reading ability will clear things up, but can he work with Evie, a girl who craves the spotlight, while keeping his own abilities a secret?
Evie and Sam have the media's attention at the moment…but something else is in the news as well. A mysterious sleeping sickness has taken hold, and it has all of New York on edge. People are being trapped in their dreams, and there appears to be no cause or cure for this strange illness. Is there anyone who can figure out what is happening?
As it turns out, there is. Two young Diviners, Ling Chan and Henry DuBois, are dream-walkers, and the ability to discover what–or who–is responsible for the sleeping sickness may reside with them. But what if they don't want to leave the dream world? What if it's so much better than the prejudice and ridicule they face every day?
For many people–Ling and Henry included–dreams are quickly turning to nightmares, and there appears to be no escape. Diviners and their allies will have to work together to stop this evil from spreading and taking those they hold dear. But how? How can they stop an evil that exists in dreams?
On the fringes of this terror, there's always the odd gray man in the stovepipe hat, known to some as the King of Crows. This shadowy figure, who was also present during the Naughty John fiasco, seems to thrive on terror, but his endgame is unclear. What does he have to do with the sleeping sickness, and how will the Diviners play into his plans?
As the Diviners navigate the terrifying dream world threatening to invade even their waking hours, they must also unite to face the uncertain future ahead of them. Something big is headed their way. Will their abilities be enough to fight it? Who or what will try to get in their way? And what will they discover about themselves and their "gifts" in the process?
Find out just how dangerous dreams can be when you read Lair of Dreams, the thrilling second installment in Libba Bray's Diviners series.
_______________
To say that I liked Lair of Dreams would be something of an understatement. Granted, I could not read it at night, especially right before bed, but I still enjoyed every bit of it. This book, like The Diviners, is rich, complex, and provides a rather interesting, alternate-history type look at life in the 1920s. Those who read this book may just find themselves doing a bit of research into just how much of it is historically accurate. (A lot of it, by the way.)
If you, like me, are already eager for more of The Diviners, well…we're all out of luck for now. According to Goodreads, there will be two more books in the series, but there is no timeline on when we can expect them. Given that the two books we already have come in at around 600 pages each, I imagine it takes the wonderful Libba Bray quite some time to research, write, rewrite, and otherwise prepare the books for publication. So, I guess we'll just have to be patient.
As news of future books in The Diviners is released, I imagine it will be on Libba Bray's website first, so check there often. You can also follow the fantastic Ms. Bray on Twitter, Facebook, Tumblr, and Instagram.
If you'd like to hear more about Lair of Dreams from Libba Bray herself, check out the interview below from BookCon 2015. Enjoy!