This post revolves around the ninth story in Tales from the Shadowhunter Academy. At this point, if you haven't read everything Cassandra Clare has written about Shadowhunters, I don't know what to tell you.
As you've likely gathered, I recently finished reading Born to Endless Night, story #9 in Tales from the Shadowhunter Academy. I don't know that this is my favorite story in the bunch…but it's definitely in the running.
What's so great about it, you ask? In a word: Malec. (For those who aren't familiar with this series, this is the "couple name" for Magnus Bane and Alec Lightwood.) Yes, Simon continues to play a big role in this story (as he should), but the focus this time is on Magnus, Alec, and the little newcomer who is going to change everything…
Magnus Bane, the High Warlock of Brooklyn, thought this was going to be a fairly uneventful trip…even for him. He'd give a few lectures at the Shadowhunter Academy, spend some time with Alec, and go on his merry way. He couldn't know that something is about to happen that will throw his entire world into a tailspin…
Shortly after Magnus arrives at the Academy, several young Shadowhunters-in-training, including Simon, discover a small bundle at the Academy entrance. Everyone is shocked to discover that this bundle is a baby with navy blue skin. A warlock child. The baby has been abandoned by his mother, and Simon immediately thinks to go to Magnus about this situation. Surely, he'll know what to do.
As it turns out, it's not Magnus that jumps in and takes charge. It's Alec. Alec cares for this blue-skinned child as if he were born to do so. And the entire Lightwood family jumps in to help. While Alec seems totally sure of what needs to happen with the warlock child, Magnus is the one who is uncertain. In all of his centuries on earth, he's never encountered a situation like this one. What is he supposed to do, and how will all of this change his relationship with Alec?
_______________
I'm going to stop here before I give away every single thing that happens in this story. I will say, though, that I loved seeing more of Alec. I think he's often overlooked–especially when either Magnus or Jace are around–so it was wonderful to see him get his chance to truly shine…and he did. And even though I didn't mention it in my little recap above, I also liked how both Alec and Magnus reassured Simon about his actions–both past and present–and his place in the larger Shadowhunter world.
With that, I guess we move on to story #10 in the Tales from the Shadowhunter Academy collection. This final installment, Angels Twice Descending, will focus on Simon's Ascension ceremony, and it will be out on November 17th. I don't know what to expect at this point, but I'm fairly certain that it will be a story to remember…and should be a great lead-in to Lady Midnight (out on March 8th).
Speaking of Lady Midnight…have you all seen that absolutely gorgeous cover? If not, check it out below.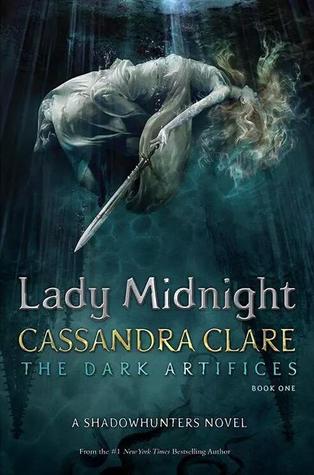 Pretty, pretty, pretty. I eagerly await what is sure to be another fantastic book in Cassie Clare's Shadowhunter saga. (I'm also pretty stoked about the TV series which premieres on ABC Family–soon to be FreeForm–on January 12th at 9/8c. I'm not a huge fan of the time slot–that's when I watch Agents of SHIELD–but I'll still be tuning in.)
For more Shadowhunter fun, click here for the official TV series website and here for the novels' website.