Spoilers ahead! This post focuses on Unspoken, book 3 in C.C. Hunter's Shadow Falls After Dark series. If you haven't read the entire Shadow Falls and Shadow Falls After Dark series, you might want to take care of that before proceeding. Here's a list of books you need to read posthaste:
Shadow Falls
Shadow Falls After Dark
Series novellas

Turned at Dark (Shadow Falls #0.5)
Saved at Sunrise (Shadow Falls #4.5)
Now that we've taken care of that, let's move on to Unspoken, the third and final (?) book in the Shadow Falls After Dark series…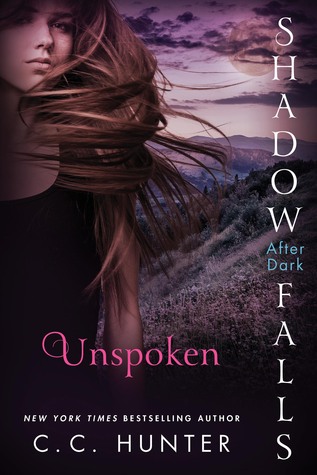 Unspoken, which will be released to the masses tomorrow, continues the story of Della Tsang, a young vampire who is struggling with more than anyone should have to bear. Her father, who barely speaks to her, is about to go on trial for murdering his sister many years ago. Della knows he didn't do it, but gathering the evidence to prove his innocence is difficult. She's convinced that her uncle, long thought to be dead, knows something–or is guilty of the crime himself–but she can't find him and get answers to her questions. And why is her uncle so elusive? Well, Chase Tallman may be partly to blame for that.
Chase wants to do everything he possibly can to help Della, but, just like Della is convinced of her father's innocence, Chase is certain that Eddie, Della's uncle, didn't commit this horrible crime. But if neither of the brothers killed their sister, who did? And how can two vampires with their own issues work together to find a killer who's been on the run for decades?
Part of Della wants to trust Chase, but another part feels like she's being forced to rely on him. Yes, they are bonded, but is that the only reason they are so drawn to each other? Does Della really have any choice in her mixed-up feelings for Chase? She's spinning out of control, and Chase isn't exactly helping. He's trying to be honest with Della, but his omissions are just as bad (in Della's eyes) as outright lies. What exactly is he hiding? Is he trying to shield Della from the truth, or is he protecting someone else?
As Della, Chase, and an assortment of other friends at Shadow Falls work to reveal what really happened in Della's father's case, another heinous act is also demanding their attention. And, as they begin to examine evidence (and as Della gets information from a couple of ghosts), it seems that the two crimes are somehow linked. How is this possible? And can they find the real culprit before time runs out?
Are Della and Chase ready for what lies ahead? Read Unspoken by C.C. Hunter to find out.
_______________
I thought Unspoken was a rather satisfying end to Della's story in the world of Shadow Falls. I liked how things worked out for the main characters, and the story made me feel okay about how they'll move forward. (I'm trying really hard here not to spoil anything for anyone. Can you tell?)
One thing that I didn't really touch on in the recap above was Della's relationship with her father. If you've read any of the previous books, you know it's strained. Well, it definitely gets worse in Unspoken. By the end of the book, I sort of understood why her father acted the way he did, but that did not help my urge to give him a good smack. He was horrible to Della, and here she was, busting her tail to keep him out of prison–something he wasn't even aware of. She could have turned her back on him–just like he did to her–but her love and loyalty were more powerful than anything, including what her father believed she was capable of. (You'll have to read the book to figure out what I'm talking about here.)
I'm hoping we'll see more of Della and the gang in future books. Although things are cool now with Della–and with Kylie from the Shadow Falls series–Miranda's future is still up in the air. We saw a bit of her story in Spellbinder, but I'm thinking there's a lot more to come–hopefully in a full-length novel or even an entire series.
Speaking of more to come, all of the e-novellas in the series are finally coming out in print. All four of them will be released in one volume, Almost Midnight, which will be out on February 2nd. According to C.C. Hunter's website, this collection will also feature a new story from another Shadow Falls character. No idea who at this point.
For those considering adding Unspoken or any of the other books in the series to your libraries, I would recommend these stories to libraries that serve teen readers. It's not that I don't think some middle school students can handle it. Some likely can, but the books do have some mature situations that are more suited to young adults. Just my two cents.
In closing, I'd like to thank NetGalley for giving me the opportunity to read Unspoken and the rest of Della's story. I truly appreciate it!