What can I say about Shadow and Bone by Leigh Bardugo that has not already been said? I'm not sure, but I'll give it a go…
Shadow and Bone, the first book in The Grisha trilogy, came out three years ago, and it's been in my TBR pile almost as long. (The entire series is now complete, so I guess I did okay. No waiting for me!) Well, I finally dove into the book a while ago, and I finished it earlier today. Here are my thoughts in a nutshell:
Holy crap on a cracker.
Why did I wait so long to read this book?! It is so freakin' good that I'm about to unleash my inner (and outer) fangirl. I am super-eager to get my hands on every other book, novella, or anything else I can find in this series. I predict I will be virtually useless this weekend because I'll be in a Grisha fog. (I am not, of course, counting the time I spend with my nieces on Halloween. That break in reading is non-negotiable.)
Let's take a quick look at Shadow and Bone so that I can commence with reading book two, Siege and Storm.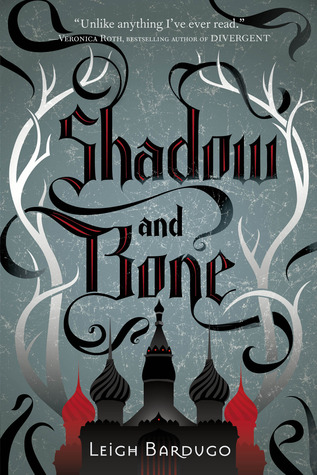 Orphaned at an early age, Alina Starkov believes that her life is destined to continue on the same uneventful path. She's a mapmaker for the First Army, and though the danger of the Shadow Fold is ever present, as long as her childhood friend Mal is close by, nothing can be too terrible.
If only…
When Mal, Alina, and many others are sent into the Fold, they are enveloped in a darkness so absolute that it feels like a living being. Horrible creatures called volcra attack their vessel, and it seems as if all is lost. One of the monsters goes after Mal, and Alina taps into a power that she doesn't even realize she has. She summons light to push back the darkness…and everything she ever knew about herself or her place in the world changes in an instant.
Alina is spirited away to be trained as a Grisha. The Grisha, who are mysterious and magical beings, are led by the Darkling, the most powerful of them all. The Darkling sees Alina, a Sun Summoner, as the hope for the future of their land, but Alina is not so sure. She struggles in her training, and something seems to be holding her power back. How can she save the world when she's still trying to figure out how she fits into it?
The Darkling is convinced that Alina is what he needs, and he does whatever he can to convince her of this. Alina eventually discovers the power within herself, and she begins to believe the Darkling. She's also growing closer to this enigmatic figure and all he represents.
But Alina soon learns that all is not what it seems. After reuniting with Mal and uncovering a terrible truth, Alina must choose between the future offered by the Darkling and one where she is alone in the world once more. No matter which path she chooses, Alina will soon come face-to-face with her destiny. Is she the master of her fate, or is someone else holding the reins?
_______________
With that, I'm going to wrap things up. Read Shadow and Bone. It's awesome. I'm sure the other books are equally wonderful, and I plan to find out for sure very soon.
For more information on The Grisha trilogy and other works by Leigh Bardugo, check out her website and connect with her via Twitter, Facebook, and Instagram. You may also want to take a look at the book trailer below. It gives a brief glimpse into Shadow and Bone without giving too much away. Enjoy!