If you are not totally caught up with all things Shadowhunter, go no further. (If you don't know what I'm talking about, that should tell you something. Stop right now, go to your nearest library or bookstore, and read everything Cassandra Clare has ever written. Start with City of Bones.)
Now that that's out of the way, let's proceed, shall we?
Last night, I read Angels Twice Descending, the tenth and final installment in Tales from the Shadowhunter Academy, a collection of short stories centered on Simon Lewis, his struggle to restore his memories, and his journey toward becoming a Shadowhunter. This last novella focuses on Simon's Ascension, and, while I was expecting something big to happen, I wasn't totally prepared for how hard it would hit me. (After reading so many of these stories, one would think I'd know better. One would be wrong.)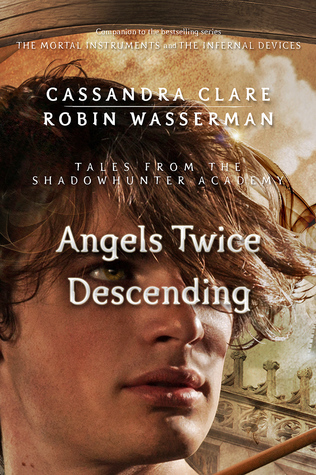 Simon and his fellow Academy students are getting ready to finally enter the world of the Nephilim. For mundanes like Simon, this means going through the Ascension ceremony and drinking from the Mortal Cup. After two years of grueling work, it should be a no-brainer on whether or not to go through with this final step…except for the whole "drinking from the cup could kill you" thing.
After one of the mundane students decides not to Ascend, Simon is forced to reflect on his own feelings. Does he truly want to become a Shadowhunter? Who is he doing all this for? Will he get his memories back once he Ascends? If he does, what could that mean for the person he is now? How will he deal with never seeing his mom or sister again? And what if the worst happens? What if he doesn't have what it takes to be a Shadowhunter and drinking from the Mortal Cup destroys him?
In the end, Simon follows his heart and decides to become a Shadowhunter. But the Ascension ceremony is not without its heartbreak. One of the Academy students does not survive the process, and Simon is once again faced with the question, "Is it worth it?"
_______________
I can't go any further here without some major spoilers. (I already feel like I've written too much.) It's enough to say that I cried…a lot.
Now that we have all ten of the Tales from the Shadowhunter Academy stories, we also have the full picture formed by the covers. Check it out:
As for when the entire volume of stories will be released in print, I'm not sure. From what I've heard, it will be sometime in 2016.
So, where do we go from here?
The next Shadowhunter story is the full-length novel Lady Midnight, due out on March 8th. This begins the Dark Artifices storyline and centers on Julian Blackthorn and Emma Carstairs at the Los Angeles Institute. We also have the new TV series to look forward to, and that starts on Freeform (aka ABC Family) on January 12th.
If you, like me, still want more Shadowhunter goodness, click here for the official TV series website and here for the novels' website.
Enjoy!