I finished reading Bone Gap by Laura Ruby a couple of days ago, and I'm still trying to decide how I feel about it. It was beautifully written, kind of creepy, and kept me guessing, but I don't know that it was one of my favorite books. I'm not sure why that is. Maybe I'll figure it out as I'm writing this post.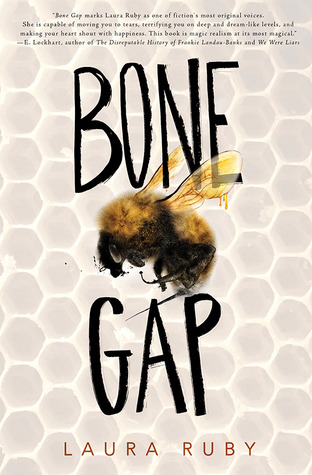 The people of Bone Gap don't know what happened to Roza, a young woman who left the town as mysteriously as she entered it. Maybe she went back to Poland. Maybe she left for greener pastures. Maybe she just had enough of living with the O'Sullivan brothers. Or maybe the younger brother, Finn, had something to do with her disappearance. No one knows the truth, but they're not really looking for Roza, either.
Well, no one except Finn.
Finn O'Sullivan knows that Roza was taken by a strange man, but nobody believes him. Finn can't recall what the man looks like, just how he moves. Finn looks for the man everywhere he goes, and he catches glimpses of him a couple of times, but the people of Bone Gap continue to think that he's making up a crazy story.
Even Finn's big brother Sean, the guy who was probably closest to Roza, refuses to believe Finn, and the situation is driving the brothers apart. Only Petey, a girl with her own experiences with Bone Gap's rumor mill, seems to believe Finn. She eventually comes to realize that maybe there's a reason why Finn can't remember what Roza's abductor looks like.
As for Roza, she is being held captive by a man who wants to make her his. This man has been obsessed with Roza for a long time, and he gives her everything she could possibly need…except her freedom. Roza wonders if anyone is looking for her or even cares what happened to her. She searches for ways to escape her situation, but all seems lost…
…or is it?
How can Roza flee from a man so powerful that even the dead obey his commands? Can Finn find a way to save Roza even though everyone around him thinks he's crazy…or worse? Whatever happens, what will it mean for the O'Sullivan brothers, Roza, Petey, and the people of Bone Gap?
_______________
I don't know if I've made it clear here, but Bone Gap has a bit of magical realism in it. It's rather subtle in the beginning, but it's more and more evident the longer you read. I guess maybe I wasn't expecting the mystical elements of the book, and that's why I'm not sure how I feel about it. Truthfully, even though I love books with magic in them, I would have liked this book more if there had been a more realistic explanation of Roza's disappearance and several other occurrences in Bone Gap. (I know I'm probably in the minority on this. That's fine with me.)
Bone Gap is a good addition to libraries that serve young adult and adult readers. I think it may be a little too deep for younger readers (and some older readers, to be honest). There's also some mature content that could keep it out of middle school collections.
Bone Gap was a finalist for the National Book Award for Young People's Literature, so that might tell you a little about the quality of this book. (If you're curious, the winner of this year's prize went to Challenger Deep by Neal Shusterman. I haven't read it yet, but I hope to get to it eventually.)
If you'd like more information about Bone Gap and other works by Laura Ruby, visit the author's website. You can also connect with her on Twitter and Tumblr. I also found a book trailer for Bone Gap on YouTube. It captures the mood of the book fairly well.